Now Closed
but you can still book
All Wellness Spa
Spa
308 Heuwel Street, Capital Park, Pretoria

Rewarded
All Wellness Spa
308 Heuwel Street, Capital Park, Pretoria
Capital Park
Why not let us call you?
(first thing when we open)
THE PLACE
Type: Day Spa
Speciality: Wellness
Access: Off street
Open Plan: 1
Private Rooms: 3
Couples Rooms: 1
Therapists: 5
COMFORTS
Ambient Scent
Ambient Music
Comfortable environment
Pool
Hydro
Relaxation room
Garden / outdoor space
Female & male treatments
Restroom on premises
Spa gown / slippers
Payment by credit card
Mobile services available
Special Offers
Annual Specials 2021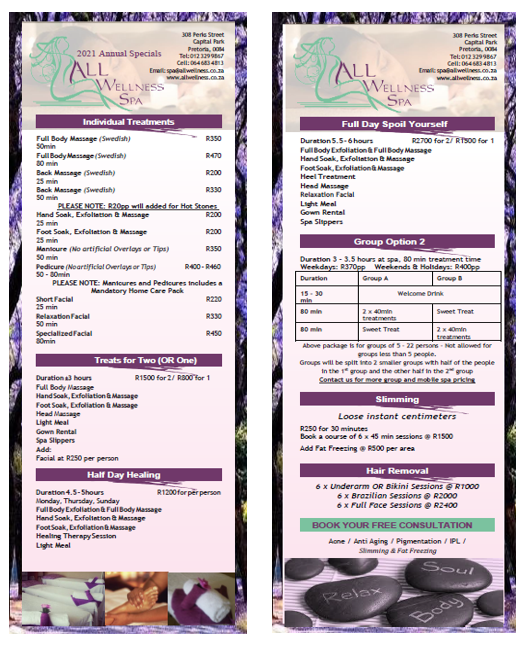 Enquire
about this
MOBILE SPA treatments!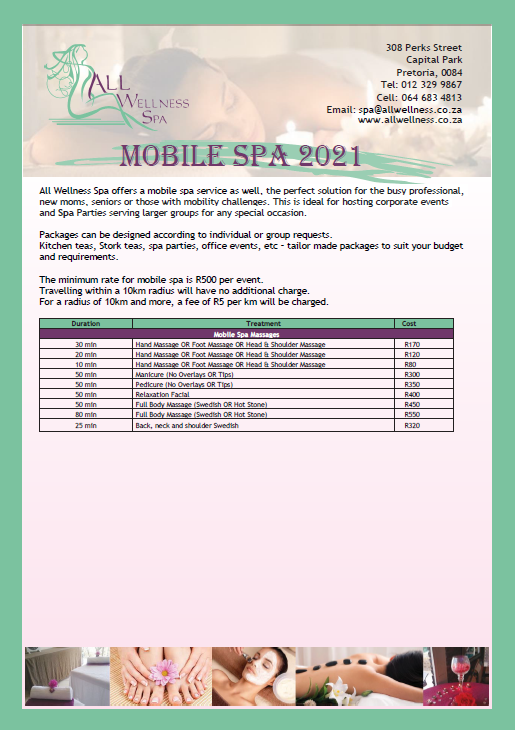 Enquire
about this
All Wellness Spa is a unique oasis of calm situated on the Capital Ridge Mountain Range in Pretoria. They focus on offering a wide selection of quality therapeutic, relaxing treatments at affordable prices.
All Wellness Spa was formed from the idea that corrective and calming treatments need to be performed in a nurturing, warm, and inviting space in order to truly be effective.
Their approach combines wellness expertise with an authentic spa-care experience to make the largest health benefit impact possible. They believe to offer the perfect marriage that appeals to both men and women seeking goal-oriented procedures while enjoying the powerful benefits of relaxation and stress reduction.
You can nurture your body and soothe your mind with any of their therapeutic treatments.
Their treatments include:

Full and Half Day Spa Packages;
Natural health and energy assessments;
Massages and Facials;
Manicures and Pedicures;
Slimming with Ozone therapy, natural supplements and lipo cavitation;
Weight loss challenges and consultations
#1 out of 2 Spas in Capital Park
Reviews
Ambience

Cleanliness

Facilities

Staff

Value
Have you been here? Write a review
Showing 11-20 of 133 items.
Erin Adams
Great experience and wonderful atmosphere. Very friendly and professional staff.
Jennifer Noppe
Very friendly! Everything is just awesome.
Thato Precious Semake
wow I really enjoyed nd had an amazing experience and the staff was really friendly,I'll definitely go back again
Retha Bekker
The positive atmosphere and tranquill surroundings at All Wellness Spa makes one feel relaxed and at home immediately on arrival. The staff is super efficient and friendly and it is an excellent experience from beginning to end. I fully recommend All Wellness Spa! Do not miss out on their special offers and tons of added benefits and products that's available.
Alet Jackson Calitz
awesome place, awesome workers, awesome owner
Ashley Fitzpatrick
Professional and very friendly we loved our full body massage. Feel relaxed
Jamie Jean-Marize De Jonge
Lovely experience thank you ladies
Mpho MamaHlogi Za Maepa
Had a wonderful, relaxing day thx to all wellness Spa. My therapist was the best. The scenery is the best. #Tranquility. Keep up tue good work
Kamogelo Martha Hlalethwa
Great service and nice staff members and the food was great ??
Mangi Msibi
I will never recommend this place to anyone, am pregnant I went there with my friends for my baby shower, firstly the food was cold, treatments wer cut instead of 1 hour my friends and I only received 30mins, rooms wer cold, our package had.Jacuzzi but we wher refused Jacuzzi coz the rude owner of the spa wanted to go to some event, she kept fighting with me as heavily pregnant as I am she was shouting and yelling, I will never forget that I almost lost my baby because of her. this place is hell and I don't advice anyone to go