Rewarded
Annique health, beauty, wellness
Entrance 4, Somerset Mall, Somerset West, Cape Town
Why not let us call you?
(first thing when we open)
THE PLACE
Type: Beauty Salon
Speciality: All beauty treatments
Access: in shopping mall
Open Plan: 0
Private Rooms: 4
Couples Rooms: 0
Therapists: 5
COMFORTS
Products available online
Ambient Scent
Ambient Music
Luxury environment
Stylish establishment
Comfortable environment
Fluffy towels
Heated treatment bed
Place to hang your clothes
Female & male treatments
Dedicated to Supreme Service
Air-conditioned rooms
services offered
Special Offers
You might be sound asleep but your skin is wide awake. Moisturise focus on protection, whereas Night Cream focuses on recovery. Buy the Synergy Even Skin Moisturiser and get the Green Rooibos-infused Synergy Clearly Even Night Crème FREE!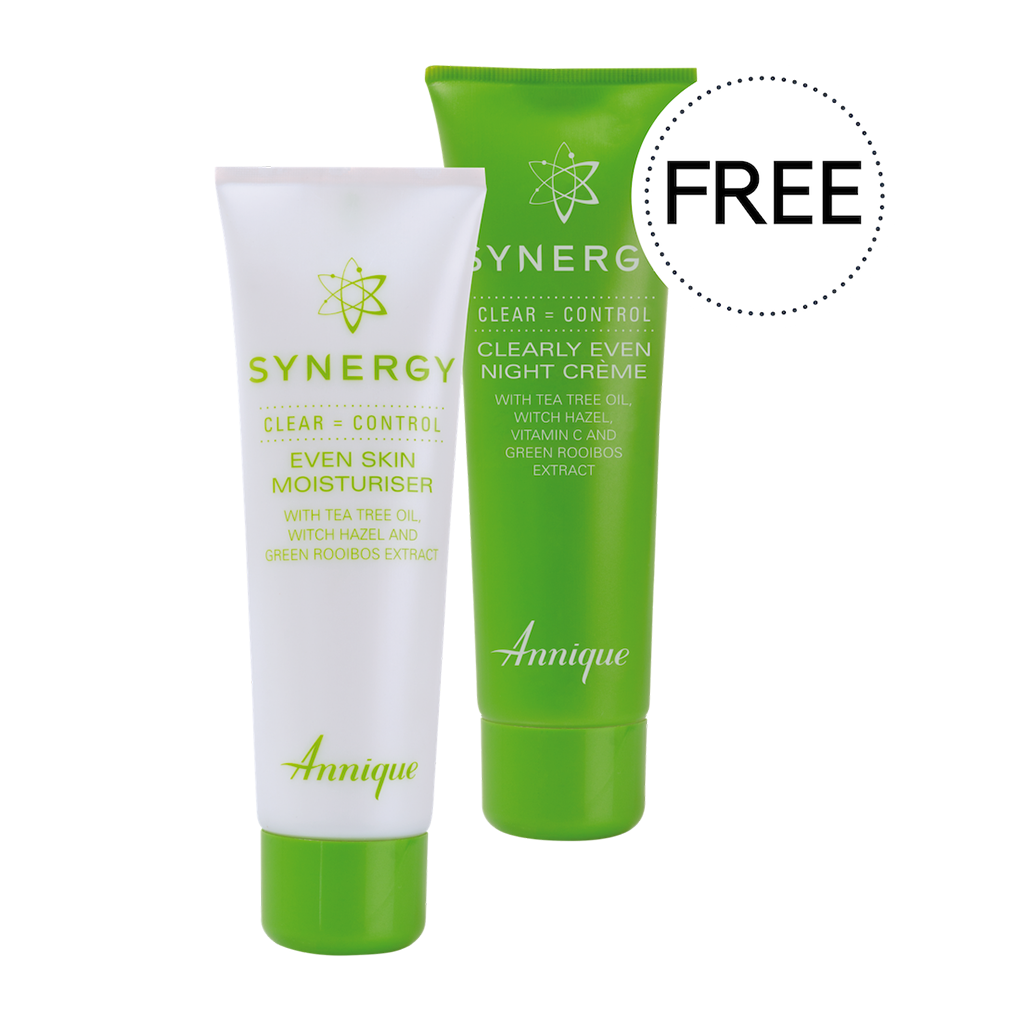 Enquire
about this
In 1968 Dr Annique Theron stumbled on the natural healing powers of the South African herb, Rooibos tea, when she warmed Lorinda, her allergic baby's bottle with warm Rooibos tea. For the first time since birth Lorinda slept through the night and her allergic reactions to even mother's milk calmed down.
Rooibos tea has been a trusted remedy for the last three decades among South African mothers. Now Rooibos' miraculous properties to cure and soothe are backed not only by scientific research and international recognition, but also by thirty years of mothers' hands-on experience. If your little one suffers from colic, insomnia, food allergies, stomach cramps or eczema, Annique's Rooibos tea is the perfect answer to your problems. It is simple to use; simply substitute the water of baby's bottle feed with Rooibos tea. Rooibos tea will benefit the digestive system, calm your child and ensure untroubled sleeping patterns.
#1 out of 1 Independent Salons in Somerset West
Reviews
Ambience

Cleanliness

Facilities

Staff

Value
Have you been here? Write a review
Showing 1-10 of 130 items.
Veronica Bezuidenhout
I do love ti be part of this company for 40 years
Megan Mertz
All their products as it is filled with amazing rooibos tea that is filled with antioxidants and goodies that your body needs
Elmarie Tredoux
Uniquely South African rooibostea products. Every product brilliant!
Tatjana Mihajlov Pilbeam
Tell us what was your experience like?
The best pedicure with very professional and skilled staff!
What did you like?
Everything, from the very nicely appointed reception area to the warm and tranquil therapy room with subtle lighting and relaxing music.
What can be improved?
nothing
What would you recommend to others?
Pedicure, Massage, Facials, nice products also
Jacolize Smit
Telll me where can i find a consultant in Wellington
Jolene Oberholzer
I just love the optiflora I had a few Hernias and was on 3x different meds that the Dr gave me , which did not make me feel better... I was always uncomfortably and bloated ?? The only tabs that helped , and made me feel more comfortable was the optiflora , so I stopped all the hospital meds and stayed on optiflora Its a awesome product and makes me feel like a different person TX Annique for this awesome product ....
Tracy Tsakani
Rescue mist spray is the one,then balance tea is best for those with high blood
Ofitserov Sergey
????? ???????????? ????????? ??? ????????, ??????? ? ?????????. See Translation
Phillippina Kruger
i only use Annique beauty products with great results