Rewarded
Aurora Beauty & Wellness Spa
12 Park Lane, Century City, Cape Town 7441
Why not let us call you?
(within 5 mins)
THE PLACE
Type: Beauty and Wellness Spa
Speciality: Massage, Facial, Skin Peel, Foot Spa, Body Treatments, Waxing, Manicure, Pedicure, Bio Sculpture Gel, Eyelashes, Microblading, Skincare
Access: On the street
Open Plan: 0
Private Rooms: 6
Couples Rooms: 0
Therapists: 10
COMFORTS
Products available online
Wi-Fi
Ambient Scent
Ambient Music
Luxury environment
Stylish establishment
Comfortable environment
Fluffy towels
Garden / outdoor space
Place to hang your clothes
Refreshments served
Female & male treatments
Restroom on premises
Spa gown / slippers
Showers
Payment by credit card
Late appointments on request
Air-conditioned rooms
services offered
Epilfree Treatment
from R200
Body Treatments
from R300
Bio Sculpture Gel
from R240
POPULAR treatments
Bio Sculpture Gel overlay
R300
Volume Lash Extensions
R800
Ganban'yoku Stone Spa
R450
Special Offers
Autumn Special 1.5 hrs - Massage + Facial - only R480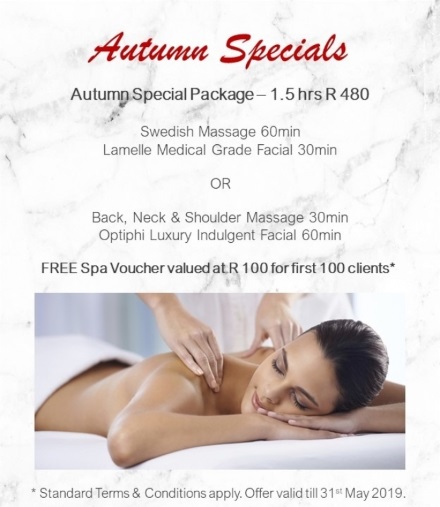 Enquire
about this
We offer the most unique and unforgettable spa experiences! Relax your body and soul, rejuvenate and revive!
#25 out of 38 Spas in Century City
Reviews
Ambience

Cleanliness

Facilities

Staff

Value
Have you been here? Write a review
Showing 11-20 of 22 items.
Aneesa Kader
Great service with amazing and super friendly staff!
Elizabeth O'Rourke
Had a blissful 60 min Swedish massage with Olwethu and I really frlt the tension of months and musvle pain removed during the treatment- beautiful spa with a luxurious feel staff are overall friendly and I will surely revisit them soon
Zeenat Zeenat
Great service from Helen and Tara. Staff are friendly. Great treatments offered.
Samantha Marais
Absolutely stunning, amazing staff and team
Charlene Joy Nel
Helen is simply amazing. So pleasant and helpful. Environment is tranquil and staff very friendly.
Chante Beckwith
Beautiful Spa, Tranquil setting, i will definitely recommend this place to family and friends
Simone Fester
We tried this spa for the first time and had a very pleasant experience, staff are friendly and informative about their products. The facility is clean and creates a great atmosphere. We will definitely return. Thank you for a great day filled with relaxation.
Nono Boqwana
Great Environment,very relaxing Friendly staff Great treatment too
Ana Christina Adams
Was spoilt by my daughter-in love to an amazing spa day. Loved every second of my spoils. Tina my beauty therapist for the afternoon -you the boom. Wanted to take you home with me. Highly recommended
Rene Geyser
Had an amazing full body massage! Will definitely visit you again. Very friendly staff.