Now Closed
but you can still book
Aurora Beauty & Wellness Spa
Spa
12 Park Lane, Century City, Cape Town 7441
ask any question
Rewarded
Aurora Beauty & Wellness Spa
12 Park Lane, Century City, Cape Town 7441
Why not let us call you?
(first thing when we open)
THE PLACE
Type: Beauty and Wellness Spa
Speciality: Massages, Body Treatments and Skincare
Access: On the street
Open Plan: 0
Private Rooms: 6
Couples Rooms: 0
Therapists: 10
COMFORTS
Products available online
Wi-Fi
Ambient Scent
Ambient Music
Luxury environment
Stylish establishment
Comfortable environment
Fluffy towels
Garden / outdoor space
Place to hang your clothes
Refreshments served
Female & male treatments
Restroom on premises
Spa gown / slippers
Showers
Payment by credit card
Late appointments on request
Air-conditioned rooms
services offered
Epilfree Treatments
from R200
Body Treatments
from R300
Bio Sculpture Gel
from R240
POPULAR treatments
Medi-Hand Age Defying Treatment
R260
Medi-Hand with Polish
R340
Medi-Heel Callous Removal Treatment
R280
Medi-Heel with Polish
R360
Lavender Base Treatment (French gel tip)
R240
Bio/Evo Overlay (nail prep & gel application)
R300
Supreme French Overlay (covers regrowth)
R320
Silk & Gel Overlay (adds strength)
R380
Medi-Hand with Polish
R340
Hollywood Volume Set
R900
Microshading Touch-Up
R1000
Microshading (subtle ombre make-up effect)
R2000
Optiphi Firming Peptides (Anti-aging and firming) 90min
R700
Ganban'yoku Stone Spa
R450
Special Offers
After the long winter, our toes are finally saying 'Hi~' to fresh air. Select one of our amazing specials for only R389 and let us get your toes ready for season!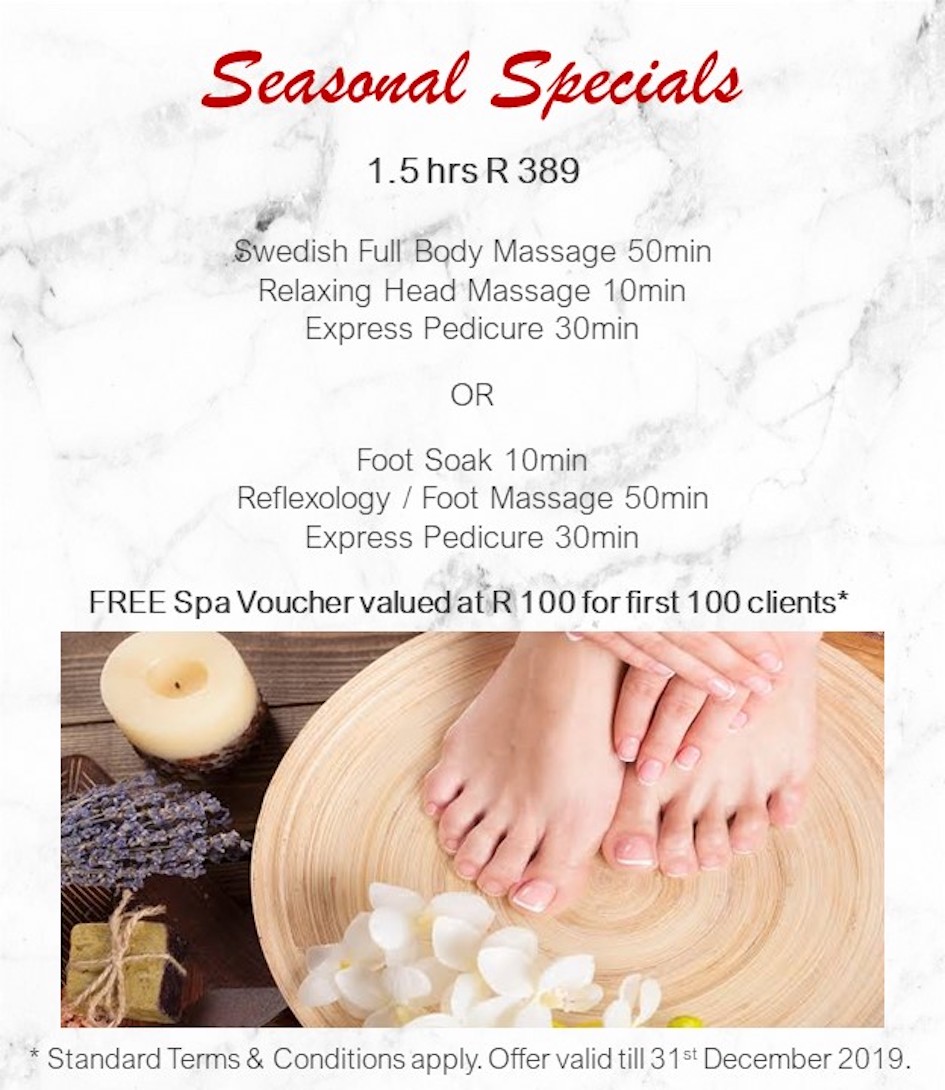 Enquire
about this
We offer the most unique and unforgettable spa experiences! Relax your body and soul, rejuvenate and revive!
#3 out of 30 Spas in Century City
Reviews
Ambience

Cleanliness

Facilities

Staff

Value
Have you been here? Write a review
Showing 31-37 of 37 items.
Vanelwa Ndongeni
beautiful place, excellent service and friendly staff. Definitely going back.??
Olya Kiriluk
what an amazing place! had fantastic experience with my friend for half day spa and Ganban'yoky Stone Spa!!!
Karen Darvel
excellent staff and service. will most definitely visit again
Emma Louise Knoetze
Beautiful spa, lovely and talented staff, an overall amazing experience!
Loshnie Govender
Had a wonderful massage by Yonela on Sunday, beautiful spa and lovely experience. Already booked our next treatment. My husband had one today and had the same experience.
Robyn Khoury
Stunning spa. Great service. Well impressed!
Charlene Martin
Excellent service.Friendly staff!!! Service was amazing. The best I have yet experienced.No lie. after my first booking I made another one on the day!