Now Closed
but you can still book
Chissy Beauty Studio
Beauty Salon
11 Village Walk, Parklands, Cape Town, South Africa
Rewarded
Chissy Beauty Studio
11 Village Walk, Parklands, Cape Town, South Africa
Why not let us call you?
(first thing when we open)
THE PLACE
Type: Beauty Salon
Speciality: Hair, Nails, Facials & Beauty
Access: Parking area
Open Plan: 1
Private Rooms: 2
Couples Rooms: 1
Therapists: 5
COMFORTS
Products available online
Stylish establishment
Comfortable environment
Fluffy towels
Female & male treatments
Payment by credit card
Dedicated to Supreme Service
Relaxing atmosphere
treatments offered
Creative Cut Only, Wet or Dry (no Styling)
R230
Flat Iron Curls (15min)
R100
Silver Brightening Shampoo or Nak Treatment (leave in)
R55
Hair - Colours & Treatments
Bleach - first application
R300
Bleach - second application
R650
Essasor - Colour Cleaning
R550
Deep Powerdose Treatment
R275
Dark and Lovely Premium
R250
Hair - Weaving & Cornrows
Dreadlocks - Tidy Me Up (Retwist)
R450
Dreadlocks - Wash only
R180
Dreadlocks - Binding locks
R750
Dreadlocks - Retouch
R300
Dreadlocks - Retwist after creation (4 weekly)
R300
Dreadlocks - Twist & Style
R380
Afro Pride - Full House Treatment
R550
Afro Pride (by length)
R300-R450
Afro Pride - Detangling
R100
Afro Pride - Kiddies Treatment
R160-R190
Benny & Betty (by Thickness)
R150-R250
Benny & Betty - Detangling
R100
Cornrows Up Style (by Length)
R280-R450
Cornrows Straight Back (by Length)
R250-R320
Thick Cornrows (By Length & Thickness)
R200-R350
Braids (by Length & Thickness)
R450-R950
Half Cornrows Half Braids (by Length & Thickness)
R450-R950
Braids Up Style (by Length & Thickness)
R350-R450
Braids Up Style - Weave Closure
R480
Braids Up Style - Weave No-Closure
R380
Braids Up Style - 2 Line Cornrows with Fibre
R150
Braids Up Style - 2 Line Cornrows with Own
R100
Braids Up Style - Soft Dread Single
R450
Braids Up Style - Soft Dread Weave
R300
Braids Up Style - Kiddies Cornrows with Fibre
R200
Wig Wash - Short - Long
R250-R350
Morgan - File, Buff & Paint
R130
CheeseGirls FullCure - 16 years and under
R200
CheeseGirls FullCure - 14 years and under
R100
Natural Tips with Polish
R400
Fill + Buff Off - Natural
R250
Fill + Buff Off with Polish
R300
Acrylic Soak Off and Removal when doing a new set
R60
Soak Off and Removal with Morgan Paint
R150
Facials - ENVIRON Treatments
essential YOUTH RESET 60min/90min
R600/R770
essential MOISTURE BOOST 60min/90min
R600/R770
essential COMFORT CALM 60min/90min
R600/R770
essential RADIANCE REVEAL (Derma-lac) 60min/90min
R600/R770
essential RADIANCE REVEAL (Mela-fade) 60min/90min
R600/R770
essential DECOLETTE Treatment
R130
essential VITAMIN TOUCH (non-DF) 45min
R450
HAND & FOOT Vitamin wrap 30min
R120
Facials - ELECTRO-SONIC FOCUS-ON Treatments
focus-on FROWN 30min
R280
focus-on TEXTURE 30min
R280
focus-on EVEN TONE 30min
R280
focus-on BODY PROFILE (body) 30min
R240
focus-on BODY PROFILE (sub-mental) 30min
R280
Facials - Environ COOL PEEL Treatments
DF Treatment (optional) 20min
R110
Special Offers
Less 30% on TUESDAY & WEDNESDAY for any Hair - Cut & Style treatments for Students & Pensioners
Enquire
about this
SPECIALS Monday to Thursday - Braiding & Conrows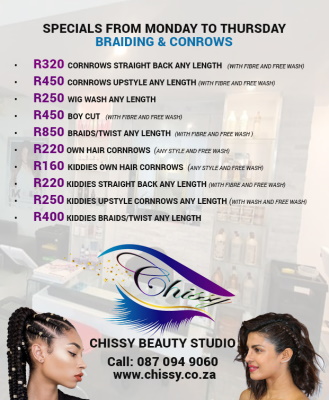 Enquire
about this
SPECIALS Monday to Thursday - Dark & Lovely & Ladine Relaxer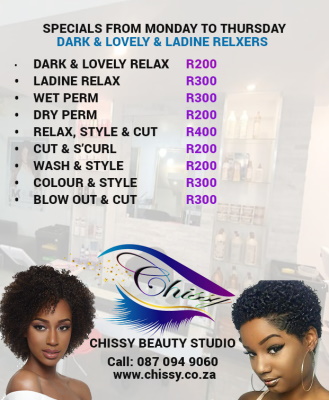 Enquire
about this
SPECIALS Monday to Thursday - Special Colour Matrix & Mycro Keratin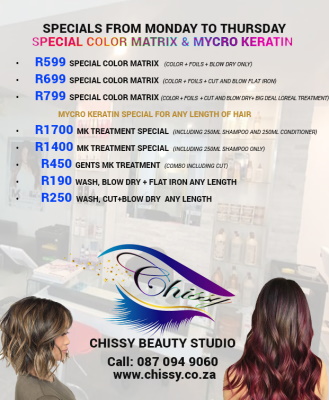 Enquire
about this
SPECIALS Monday to Thursday - Mani & Pedi / Facials / Massage / Waxing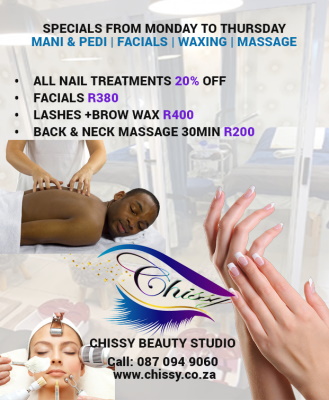 Enquire
about this
Save R600 when you book: FOILS, ROOT TINT, WASH, BLOW-DRY & TREATMENT for only R599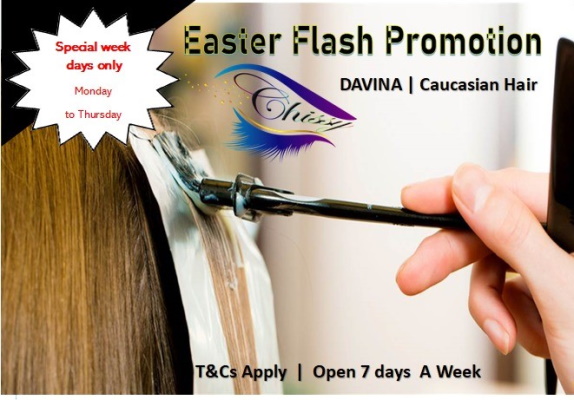 Enquire
about this
Save R600 when you book: WASH, BLOW-DRY, CUT & TREATMENT for only R299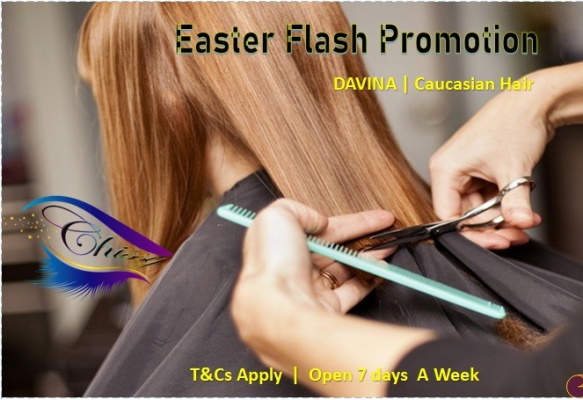 Enquire
about this
Save R400 when you book: WASH, BLOW-DRY & TREATMENT for only R150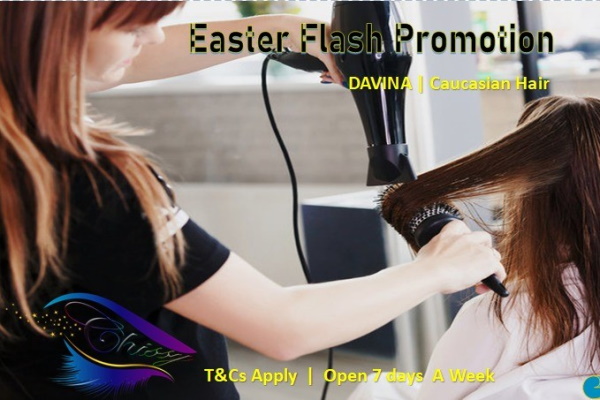 Enquire
about this
Chissy Beauty Studio is the brainchild of Tshisikhawe Mabel, a registered Auditor, Chartered Accountant, cum entrepreneur operating her privately owned audit firm in Tygervalley, Cape Town.
Not only is this black African woman making giant strides in the auditing industry, but also in the beauty industry, joined with other beauty professionals to make a formidable team.
Our salon mantra is simple, "Time to Relax, and let the professionals take care of the health of your hair, nails and face with the best treatments and products the industry can offer."
Chissy Beauty Studio is a Beauty Salon set in the modern age and specializes in beauty and personal care services. We offer a wide range of treatments like haircut, balayage & colours, dreadlocks, cornrows and braids, manicures, pedicures, acrylic nails, facials, massages and waxing.
From the first minute you step into Chissy Beauty Studio, you can be sure of enjoying a unique, warm and stylish experience. We have a unique salon, the best professionals, and the most outstanding products to offer you the most recent solutions in professional image and cosmetics. Come and live the wonderful Chissy experience. You will not regret it!
#5 out of 5 Beauty Salons in Table View
Reviews
Ambience

Cleanliness

Facilities

Staff

Value
Have you been here? Write a review