THE PLACE
Type: Wellness Spa
Speciality: Skincare and Body
Access: in shopping mall
Open Plan: 2
Private Rooms: 6
Couples Rooms: 0
Therapists: 16
COMFORTS
Wi-Fi
Ambient Scent
Ambient Music
Luxury environment
Stylish establishment
Creche / childcare
Fluffy towels
Garden / outdoor space
Heated treatment bed
Place to hang your clothes
Refreshments served
Restroom on premises
Payment by credit card
Payment by SnapScan
POPULAR treatments
Hot Stone Therapy 60min
R650
LED Mask
Special Offers
Quote 'Winter Wednesday' when Booking your Facial + Receive 2 FREE Dermalogica Travel Sizes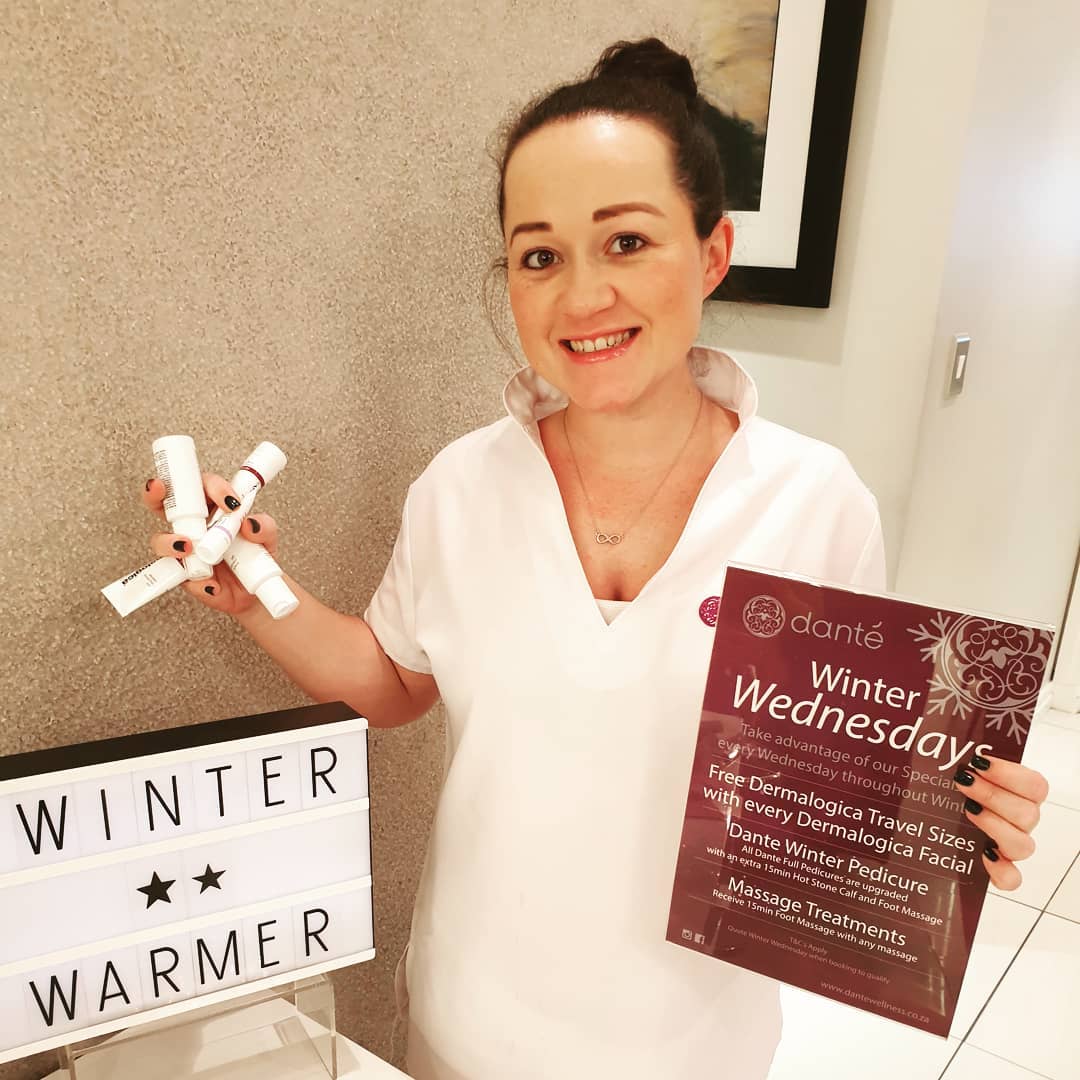 Enquire
about this
Established in 2008 the Danté brand identified a demand in the beauty industry for high quality salon treatments within a luxury spa environment.
Creating a trusted brand which encompasses a combination of excellent customer service, the latest beauty treatments and friendly experienced therapists was and still is one of the primary standards we pride ourselves in offering. At Danté spa we offer a place that truly feels like home.
Originally the wellness spa started with a few treatment rooms within a small environment, but with ongoing support and demand from our clients it was only a matter of time before our quaint establishment grew into a luxury space. One of the many expansions which took place was the inclusion of Danté's Nail Bar, Dante Express. Upon identifying a demand in the market for quick, efficient and quality nail treatments, it was decided that Danté would expand and incorporate Dante Express to their portfolio of services. Danté Express makes use of only trusted product houses which have become the popular choice for everyday beauty essentials.
Relax, put your feet up and enjoy your treatments with the peace of mind knowing your vehicle is safely parked in the Piazza Da Shopping Mall's underground parking.
Not only will our treatments relax your body and soul, the panoramic views of the Atlantic Ocean from our manicure and pedicure lounge is sure to take you on a tranquil journey to perfectly round off your spa experience.
Our ten seater lounge is the ideal venue for hosting your bridal showers, baby showers and your ladies pamper and catch up sessions. In addition to our breathtaking lounge Danté Wellness Spa offers clients 6 fully equipped treatment rooms, massage rooms and world class tanning facilities.
Danté Wellness Spa makes use of only the finest trusted product houses for our treatment options ensuring you get only the best.
#8 out of 29 Spas in Cape Town
Reviews
Ambience

Cleanliness

Facilities

Staff

Value
Have you been here? Write a review
Showing 1-10 of 318 items.
Charte Hobley
very friendly staff and beautiful music
Julie Resnekov
Thanks for creating such a beautiful environment for birthday celebrations ??
Michelle Kavarnos
Wouldn't have my nails done any where else.
Lynette De Klerk Slingerland
i get treated once a year and enjoy it every time. The staff are friendly, well trained and do a fabulous job on both my hands and feet. it's a bit of me time with my daughter. oh, and views are fabulous too if you get a seat by the window on the right side.
Jordan Brooks
Amazing service throughout! would recommend to anyone.
Jordan Brooks
Amazing service throughout! would recommend to anyone.
Hayley Durbach
#danteblessings #lovingit!
Jordan Brooks
Amazing service throughout! would recommend to anyone.
Megan Beth Langley
Dante wellness for nails!
Hayley Durbach
#SteppingOutWithBlessing #SoManyColours #HowDaringOfMe;)