Rewarded
Evolve Day Spa
The Terminal, Cnr Dr Vosloo & Trichardts Rds, Bartlett, Boksburg, Gauteng
Why not let us call you?
(first thing when we open)
THE PLACE
Type: Day Spa
Speciality: massages, aesthetic treatments, hair and beauty
Access: Off street
Open Plan: 2
Private Rooms: 3
Couples Rooms: 1
Therapists: 6
COMFORTS
Wi-Fi
Ambient Scent
Ambient Music
Luxury atmosphere
Stylish establishment
Refreshments served
Female & male treatments
Restroom on premises
Payment by credit card
Air-conditioned rooms
services offered
Hyper Pigmentation Treatments
from R850
Aesthetic Treatments
from R550
Eyelashes Extensions
from R550
POPULAR treatments
Medical Grade Micro-needling
R2000
Hyper Pigmentation TCA 10%
R850
Congestion & Acne treatment
R420
Eyelashes volume extensions
R650
Special Offers
THIS OCTOBER - Any 3 Treatments for ONLY R630!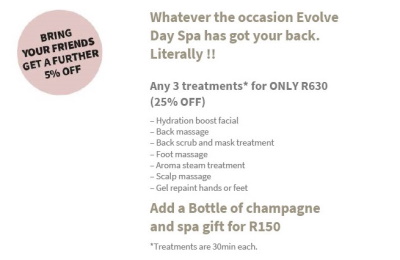 Enquire
about this
At Evolve Day Spa, we believe in being better than before.
Being better than before means leaving the past behind you and focusing on what lies ahead. That each day presents a new opportunity for you to grow, learn, achieve – and simply be the best you can be.
We want to help you evolve.
Sometimes, life can be daunting as demands pile up and you feel like you are always chasing time. We've created an environment where you can pause, be it for 30 minutes of a half day, refocus and gain a fresh perspective. Filled with new vigour, you can go out and accomplish everything you set your mind to.
You only have one life, live it! Value yourself and don't accept less than you deserve. You are always respected for who you are and where you are on your journey.
Take all the time you need.
Time is one of the most important facets of Evolve. We are always mindful that time is precious, so we respect our guests' time. We can tailor a treatment to fit your schedule so that you can get your well-deserved pampering and personal care. Our goal is to provide you with an experience that makes the most of your time – whether it's a fifteen-minute mani-pedi or a full day's worth of pampering.
Sometimes all it takes is a short time out to regroup and evolve. Taking time to focus on ourselves can completely renew our hope, dreams, and perspective.
We just need to step back, to be able to see the bigger picture again.
We promise to keep evolving.
We are centred on convenience, offering a wide range of services under one roof. From day to day, as your life evolves, so your needs change too. So no matter what your need may be on a given day, we have just the right treatment for you.
We offer spa packages, massages, aesthetic treatments, body treatments, teeth whiting, permanent make-up, manicures, pedicures, artificial nails, and tanning. Our facilities include a rasul chamber, relaxation lounge and we also have a fully-equipped hair salon.
Bring the kids and let them enjoy a pamper session too, or take time for yourself while excellent childminders look after your little ones at the Fun Factory.
Pushed yourself too hard at gym? We can massage those tired muscles.
No matter who you are and what you want to achieve, we will be here to help you. We will constantly listen to your needs and ensure that we keep pushing ourselves to be better than before too.
#1 out of 1 Day Spas in Boksburg
Reviews
Ambience

Cleanliness

Facilities

Staff

Value
Have you been here? Write a review
Showing 31-40 of 63 items.
Glenda Franco Hind
Fantastic service and professionalism from start to finish. Well qualified therapists in all treatments. Beautiful furnishings in all rooms.
Janet Frederiksen Maree
The Pedicures are amazing and the whole atmosphere is so tranquil. The people friendly and kind. Beautiful place and my favourite " Pamper place"
Sharela Tale Mullandeli N'singo
Had a fabulous time at evolve spa , The staff is very professional and friendly thank you Sherri
Estelle Strydom
I had a wonderful day. Just relaxed and professional.
Daleen DeBruyn Le Grange
This looks like the best place to get that relaxing feeling!!
Loraine Olivier
I had the most amazing micro needle treatment at Evolve day spa and my skin feels amazing. The staff were excellent in what they did. Already can't wait for my next treatment. Evolve is definately my new favourite spa!
Cindy Brits
Thank you for your hospitality! After just 1 day at your Spa I fell in love with this gem!!! See you next week xxx
Riana Viljoen
2nd time visiting this lovely spa! 2nd time I wanted to just move in. Dankie dames julle is magic vinger engeltjies.
Rasto van Staden
Was day to remember, I arrange with spa for treatment for me and my girlfriend. Best experience you will ever have. Staff is professional. They also help me arrange private to ask my girlfriend to marry me. Best and friendlies staff help with everything and I want to thank them for there help to make this a special day for me and my newly fiancée. They set up candles and everything to make it romantic. Thank you very much. I would recommend them anyday to anyone that want the best treatment in the world they will go the extra mile for you.