Now Closed
but you can still book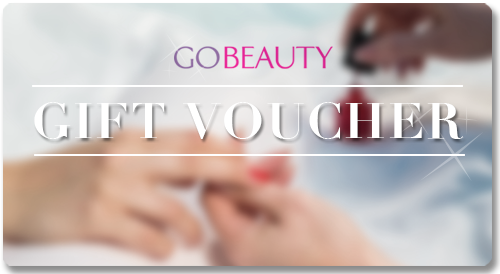 Glasshouse Rejuvenation
Shop 5A.3, Silo 5, South Arm Road, Waterfront, Cape Town. Enquire Now on - 0875509610
Why not let us call you?
(first thing when we open)
THE PLACE
Type: Beauty and Hair Salon and Skincare Clinic
Speciality: Nails, Skincare, Massage, Microblading, EpilFree Hair Reduction, Waxing, Intimate waxing, Hair Services, Spray Tanning, Tinting, Lash Extensions
Access: Private Parking
Open Plan: 2
Private Rooms: 5
Couples Rooms: 0
Therapists: 6
COMFORTS
Wi-Fi
Ambient Scent
Ambient Music
Luxury environment
Stylish establishment
Fluffy towels
Place to hang your clothes
Refreshments served
Champagne / wine served
Female & male treatments
Restroom on premises
Payment by credit card
Dedicated to Supreme Service
Air-conditioned rooms
services offered
Special Offers
Classic Lash Extensions 120min R550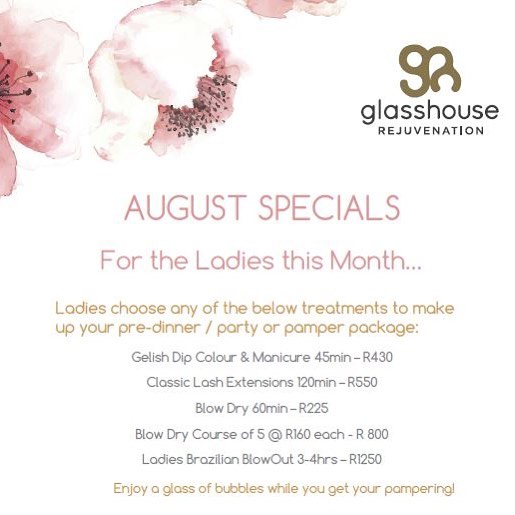 Enquire
about this
Gelish Dip Colour & 45min Manicure R430
Enquire
about this
24 August: 30min Standard Lamelle Peel (9:00-18:00) R400; Purchase 1 Lamelle product and only pay R200 for your facial, Purchase 2 Lamelle products and get your facial Free
Enquire
about this
60min, 4 Handed Massage with 2 therapists R900
Enquire
about this
Gelish Dip Colour & 45min Manicure R430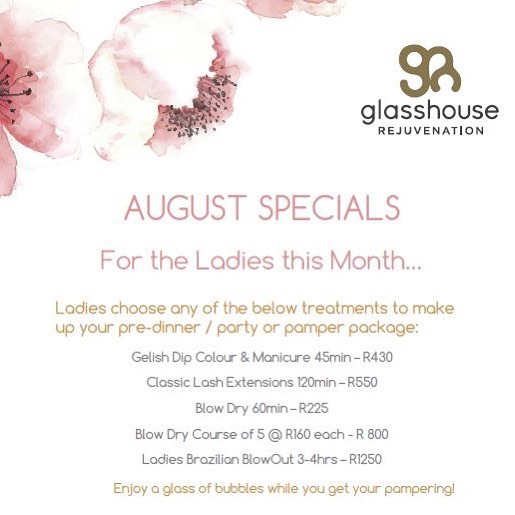 Enquire
about this
Glasshouse Rejuvenation excelled in the male grooming industry for 11 years but we've now evolved into an exclusive unisex salon at the Waterfront's new Silo Precinct. Our company ethos has always been to set the highest standard in grooming and beauty-related treatments with excellent client service. Our brand has, over the years, become well known within the industry and we've achieved many accolades to build up the Glasshouse brand to what it has become today. We have extended our service menu to include eyelash extensions, 6D microblading, and an extensive range of hair treatments.
Our signature area is still our pedi-spa section, which will be a chill-zone to relax in front of the flat screen TV while getting your extremities buffed and groomed. We have imbued the space with oceanic aquamarine colours and a feel of the pure elegance of gold and marble. The industrial space of our previous location also comes through at Silo 5, which will give you that feeling of something familiar if you have visited us before. We are extremely excited to be a part of the new Silo Precinct at the Waterfront, to showcase the best of what we do.
#6 out of 35 Spas in Cape Town
Reviews
Ambience

Cleanliness

Facilities

Staff

Value
Have you been here? Write a review
Showing 11-20 of 53 items.
Lauren Neumann
I will definitely be coming back. Friendly staff & great service :)
Claire Van Cuyck
Thanks Michael for my perfect hair! The Colour is amazing and the cut is just what I wanted!
Dennis Molewa
I loved it before it moved to Silo 5 at The Waterfront and I didn't know what to expect when I arrived at the new location. However, a few days ago I visited the new set-up for the first time and the standard has not changed. The staff is incredibly skilled, professional and friendly. It is the best place to go for any type of male waxings, no pain, no irritations. The massages are worth every cent, as well as the facials. I love this place because it is so tranquil and luscious, perfect to get pampered and recharge my batteries.
Lana Kotze
Fantastic hair by Sarah! I love my new colour. Thank you, I will definitely be back for more.
Evert Knoesen
Excellent environment with high quality service. Really enjoyed my massage, manicure and pedicure. Great to have a spa that understand that men have different needs.
Chris Van Niekerk
Went to GLASSHOUSE for the first time today. One of the best experiences ever! Friendly, professional staff, beautiful space, impeccable service. HIGHLY RECOMMENDED!
START