Holistic Spa Cape Town
Wellness Centre, Discovery Building, Heron Crescent, Century City, Cape Town
Why not let us call you?
(first thing when we open)
THE PLACE
Type: Mobile Service
Speciality: Massages
Access: Mobile to your office or home
Open Plan: 0
Private Rooms: 0
Couples Rooms: 0
Therapists: 4
services offered
Special Offers
Weekday Specials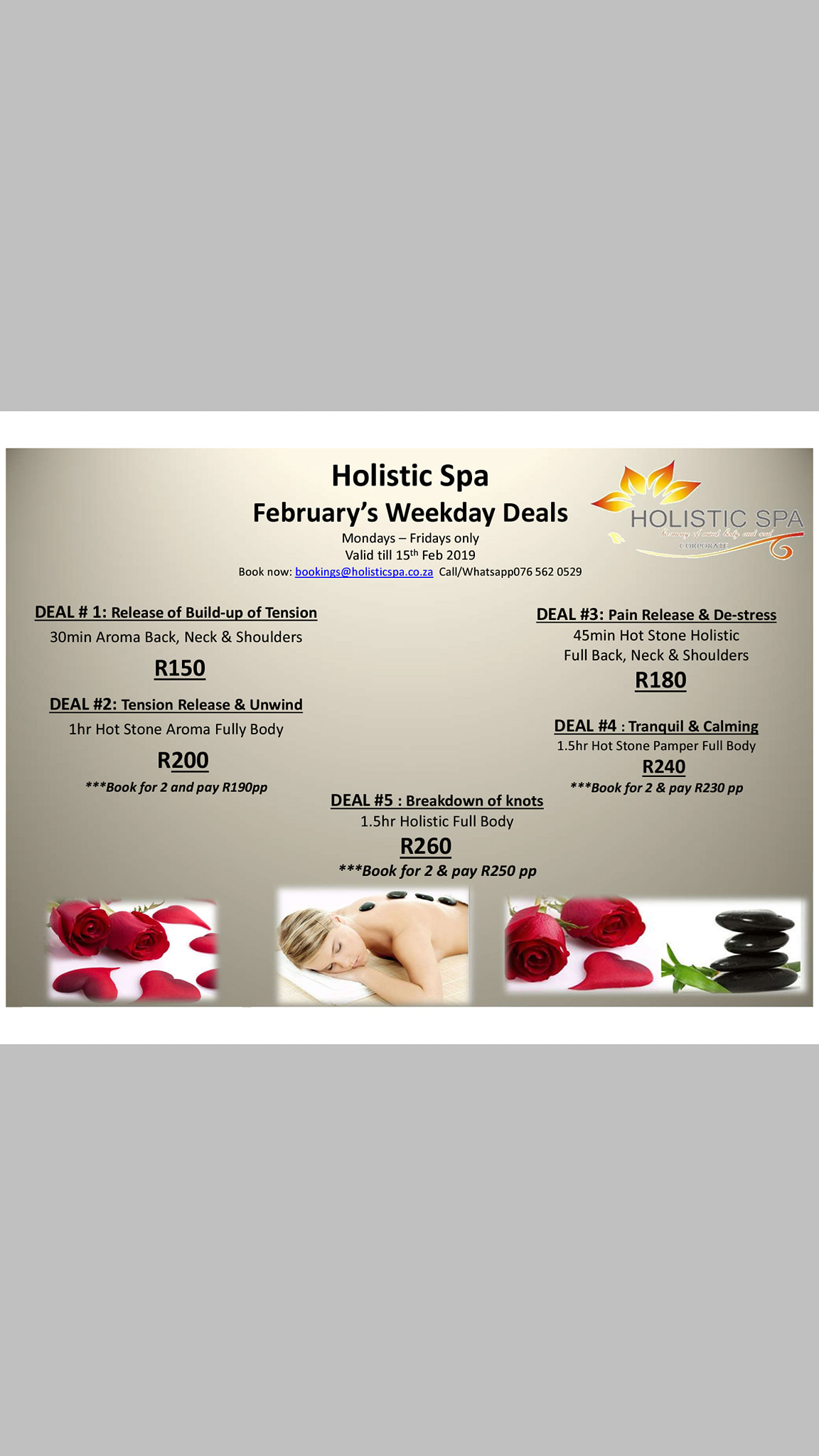 Enquire
about this
Holistic Spa specialises in Corporate Desk Massage, Full Body Massages, Beauty Treatments.
#11 out of 40 Spas in Century City
Reviews
Ambience

Cleanliness

Facilities

Staff

Value
Have you been here? Write a review
Showing 1-10 of 39 items.
Mareldiah Schippers
Thank you holistic spa for the professionalism and friendly encounters every time! I appreciate you always going the extra mile to accommodate me and I'm never disappointed with you services!! Shafieka you're the best!!!
Natasha Engel Fieliciano
My experience with Holistic Spa has been extreme unprofessionalism from the time the therapist had her 4/5 year old daughter in the same room playing games on a device, the sound which could be heard clearly over the music. The therapist constantly telling the child to be quieter and then the child "massaging" my feet and legs in her own childlike manner. The therapist even opened up my one leg during the massage so that her child could massage it. This was extremely inapp...ropriate, unprofessional and very distracting. Now, two weeks later the matter has been dealt with by means of stalling, you should have refunded me the money immediately. I am extremely disappointed in Holistic Spa not only for the unprofessional treatment but also for the unprofessional way you are dealing with the situation now. You should never have had this even take place and when you realized that your customer was unhappy you should have dealt with it much better than what you are doing right now. See More
Thabied Harris
Thank you Shahida for accommodating me in such short notice this morning. Having had this nagging knot in my shoulder it was either a massage or get to a Dr. I was pleasantly surprised with the spa and massage room. The therapist paid attention to my need before she started and she spent most of the hour working that area. I will definitely be back for a follow up and have even shared the info and details with a few friends. I should of done it this evening and just tucked in, but think I will be sleeping like a baby tonight ???
Blaine Petersen II
Would definitely recommend this place !
Desire Bagate
I love going to the Holistic Spa. The service is so nice and i always feel like a different person after beeing threre. See you soon Holistc Spa
Tiffany Tatum Eddie-Ally
?
Renecia Barnes
Absolutely loved this spa friendly staff and total professionals and most importantly value for money this is definitely my new spa??
Karen Hendricks
Always good service , I recommend Holistic Spa every time
START