Now Closed
but you can still book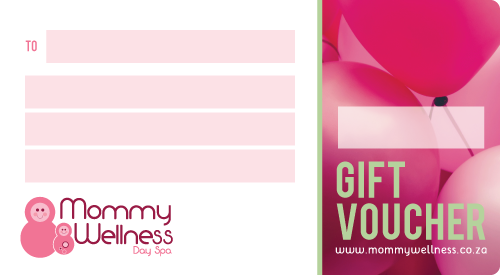 Mommy Wellness Durbanville
Paul Kruger & Hibiscus St, Durbanville, Cape Town
Durbanville
Why not let us call you?
(first thing when we open)
THE PLACE
Type: Spa
Speciality: Pregnancy treatments
Access: Off street
Open Plan: 0
Private Rooms: 3
Couples Rooms: 1
Therapists: 4
COMFORTS
Products available online
Ambient Scent
Ambient Music
Comfortable environment
Hydro
Creche / childcare
Relaxation room
Place to hang your clothes
Changing rooms
Female & male treatments
Restroom on premises
Payment by credit card
Showers
Air-conditioned rooms
services offered
Microneedling 6 Course
R5280
Microneedling Single Tmt
R880
3/4 Leg Wax
R200
Brow Wax
R70
Brow Wax Add
R50
C-Section Wax
R190
Chin Wax
R70
Full Arm Wax
R155
Full Face Wax
R160
Full Leg Wax
R230
Half Arm Wax
R110
Half Leg & St Bikini Wax
R230
Half Leg Wax
R170
Lip Wax
R70
Lip Wax Add
R50
Natural Birth Wax
R240
Nose Wax
R70
Paraffin Wax Add
R30
Standard Bikini Wax
R115
Underarm Wax
R90
Upper Leg Wax
R185
30min HydroSession Couple
R400
Aroma Full Body Massage
R450
Baby Massage Course - 5
R650
Baby Massage Session
R130
Back Exfoliation Add On
R40
Back Massage Add
R70
Back Scrub
R150
Back-Up Back Cleanse
R350
Bella Roze Pregnancy Mass
R500
Couples Massage
R750
Deep Tissue Massage 30min
R300
Deep Tissue Massage 45min
R350
Deep Tissue Massage 60min
R450
Deep Tissue Upgrade
R50
DimpleDepleting Body Wrap
R400
Fertility Massage
R550
Foot Massage
R160
Foot Massage Add
R60
Full Body Exfoliation
R300
Full Body Exfoliation Add
R75
Full Body Massage Add On
R100
Game Over Teen SportsMass
R360
Hand Massage
R160
Hot Stone Massage
R450
Hot Stone Massage 30min
R300
Hot Stone Massage 45min
R350
Hot Stone Massage Extend
R100
Hot Stones Add
R60
Indian Head Massage
R450
Leg & Foot Massage Add
R50
Mama Mio Massage
R550
Manscaping - Back
R260
Manual Lymph Drainage Tmt
R450
Massage Extend
R75
Mellow Out Body Wrap
R500
Oh Baby Massage
R480
Pregnancy Glow Facial
R425
Pregnancy Massage
R50
QuenchMySkin Wrap - Full
R500
QuenchMySkin Wrap - Spot
R350
Reflexology
R250
ReSet Body Wrap - Full
R600
ReSet Body Wrap - Spot
R400
Scalp Massage
R160
Scalp Massage Add
R60
Sport Massage
R450
Sports Massage Add On
R50
Swedish Full Body
R350
Swedish Massage 30min
R250
Swedish Massage 45min
R300
Teen Back,Neck&Shoulder
R180
Teen SportsMass(13-18yrs)
R360
Upper Body And Arm
R780
Microblading 6D
R1400
Microblading Touch Up
R700
Formula 1 Pitstop Facial
R350
Men's Facial Threading
R70
Mini Facial
R300
Preg Facial Upgrade
R50
Pregnancy Glow Facial
R425
Teen Clarifying Facial
R260
The Royal Flush Facial
R425
DimpleDepleting Body Wrap
R400
Eye Lash & Brow Tint
R110
Eye Lash Tint
R60
EyeLash&Brow Tint & Shape
R170
Lash Extensions - 2 Week
R275
Lash Extensions - 3 Week
R375
Lash Extensions - Full
R525
Lash Lift With Tint
R450
Lash Removal
R120
Lash Tint Add
R50
Lash&Brow Tint&Shape Add
R100
Lash&BrowTint &Shape Upgr
R100
Deluxe Manicure
R250
Express Manicure
R100
French Gelish
R40
Gelish Deluxe Mani
R395
Gelish Deluxe Pedi PP
R395
Gelish Deluxe Pedi PW
R395
Gelish Overlay Add
R180
Gelish Standard Manicure
R325
Gelish Standard Pedicure
R340
Gelish Upgrade
R50
Gelish Without Manicure
R230
Gelish Without Pedicure
R230
MANicure
R155
Standard Manicure
R190
Std Manicure Upgrade
R75
Structure Gel Add On
R50
Teen Magical Manicure
R150
Teen Manicure (10-12yrs)
R130
Teen Manicure (13-15yrs)
R150
The Handshake Manicure
R70
Vita Gel
R50
30min HydroSession Couple
R400
Aroma Full Body Massage
R450
Baby Massage Course - 5
R650
Baby Massage Session
R130
Back Massage Add
R70
Bella Roze Pregnancy Mass
R500
Couples Massage
R750
Deep Tissue Massage 30min
R300
Deep Tissue Massage 45min
R350
Deep Tissue Massage 60min
R450
Deep Tissue Upgrade
R50
DimpleDepleting Body Wrap
R400
Fertility Massage
R550
Foot Massage
R160
Foot Massage Add
R60
Full Body Exfoliation
R300
Full Body Exfoliation Add
R75
Full Body Massage Add On
R100
Game Over Teen SportsMass
R360
Hand Massage
R160
Hot Stone Massage
R450
Hot Stone Massage 30min
R300
Hot Stone Massage 45min
R350
Hot Stone Massage Extend
R100
Hot Stones Add
R60
Indian Head Massage
R450
Leg & Foot Massage Add
R50
Mama Mio Massage
R550
Manual Lymph Drainage Tmt
R450
Massage Extend
R75
Mellow Out Body Wrap
R500
Oh Baby Massage
R480
Pregnancy Glow Facial
R425
Pregnancy Massage
R50
Reflexology
R250
ReSet Body Wrap - Full
R600
ReSet Body Wrap - Spot
R400
Scalp Massage
R160
Scalp Massage Add
R60
Sport Massage
R450
Sports Massage Add On
R50
Swedish Full Body
R350
Swedish Massage 30min
R250
Swedish Massage 45min
R300
Teen SportsMass(13-18yrs)
R360
Upper Body And Arm
R780
Microblading 6D
R1400
Microblading Touch Up
R700
Deluxe Manicure
R250
Deluxe Pedicure ParaffinW
R300
Deluxe Pedicure PPeel
R300
Express Manicure
R100
Express Pedicure
R150
French Gelish
R40
Gelish Deluxe Mani
R395
Gelish Deluxe Pedi PP
R395
Gelish Deluxe Pedi PW
R395
Gelish Overlay Add
R180
Gelish Standard Manicure
R325
Gelish Standard Pedicure
R340
Gelish Upgrade
R50
Gelish Without Manicure
R230
Gelish Without Pedicure
R230
MANicure
R155
Pedipeel Add
R40
Soak Off
R50
Soak Off With File & Buff
R100
Standard Manicure
R190
Standard Pedicure
R245
Std Manicure Upgrade
R75
Std Pedicure Upgrade
R75
Structure Gel Add On
R50
Teen Magical Manicure
R150
Teen Manicure (10-12yrs)
R130
Teen Manicure (13-15yrs)
R150
Teen Pedicure (10-12yrs)
R180
Teen Pedicure (13-15yrs)
R200
Teen Sole Mate Pedicure
R200
The Boss Pedicure
R235
The Handshake Manicure
R70
The Sock Destroyer Pedicu
R80
Vita Gel
R50
Microneedling 6 Course
R5280
Microneedling Single Tmt
R880
Deluxe Pedicure ParaffinW
R300
Deluxe Pedicure PPeel
R300
Express Pedicure
R150
Gelish Deluxe Pedi PP
R395
Gelish Deluxe Pedi PW
R395
Gelish Standard Pedicure
R340
Gelish Without Pedicure
R230
Pedipeel Add
R40
Standard Pedicure
R245
Std Pedicure Upgrade
R75
Teen Pedicure (10-12yrs)
R180
Teen Pedicure (13-15yrs)
R200
Teen Sole Mate Pedicure
R200
The Boss Pedicure
R235
The Sock Destroyer Pedicu
R80
Deluxe Pedicure PPeel
R300
Pedipeel Add
R40
Permanent makeup
from R700
Microblading 6D
R1400
Microblading Touch Up
R700
Deluxe Pedicure PPeel
R300
Formula 1 Pitstop Facial
R350
Men's Facial Threading
R70
Mini Facial
R300
Pedipeel Add
R40
Preg Facial Upgrade
R50
Pregnancy Glow Facial
R425
Teen Clarifying Facial
R260
The Royal Flush Facial
R425
Gelish Standard Manicure
R325
Gelish Standard Pedicure
R340
Spray Tan
R400
Spray Tan Application
R400
SprayTan Incl Exfoliation
R500
Standard Bikini Wax
R115
Standard Manicure
R190
Standard Pedicure
R245
Men's Facial Threading
R70
Threading - Brow
R70
Threading - Chin
R60
Threading - Full Face
R210
Threading - Lip
R60
30min Hydro Session
R150
30min HydroSession Single
R250
35% Glycolic Treatment
R690
45min Pure Stress Relief
R300
7.5% TCA Treatment
R750
Active Rej Booster Treatm
R630
Active Rejuvenation Treat
R590
Alginate Mask Add On
R75
Aroma Pure Stress Relief
R300
Bambino Therapeutic Treat
R150
Bio Lacto Treatment
R710
Boogie Legs Treatment
R300
Brow Shape
R60
Brow Thread Add
R50
Brow Tint Add
R50
Cake & Tea Add
R0
Collagen EyePads
R95
Collagen Face Film Add On
R130
Deep Cleanse Treatment
R350
Deluxe Upgrade
R50
Eye Brow Tint
R60
Face Paint Add
R20
Father's Day Gift
R0
File & Revarnish - Feet
R85
File & Revarnish - Hands
R85
File&Revarnish Add
R60
French Varnish
R30
Full Leg, U/A, St Bikini
R335
Get Waisted Treatment
R910
Lighten Up
R300
Lip Thread Add
R50
Loyalty Card
R0
Manscaping - 3/4 Leg
R210
Manscaping - Chest
R260
Manscaping - Ears
R70
Manscaping - Fingers
R50
Manscaping - Full Arm
R190
Manscaping - Full Leg
R250
Manscaping - Guy Brows
R70
Manscaping - Half Leg
R180
Manscaping - Nose
R70
Manscaping - Stomach
R220
Manscaping - Toes
R50
Manscaping - Underarm
R105
MediHeel Add On
R70
MediHeel Foot Treatment
R120
Mommy's Time Out
R500
Nail Art (Per Nail)
R10
Nanny Service
R30
Nanny Service 15min
R7.5
Nanny Service 30min
R15
Nimue Consultation Day
R50
Nimue SRC Environ Damaged
R690
Nimue SRC Hyperpigmented
R690
Nimue SRC Problematic
R690
Pamper Party (13-15yrs)
R240
Pamper Party (2-10yrs)
R170
Pamper Party (2-12yrs)
R170
Penta Salaic Treatment
R710
Preg Pure Stress Relief
R300
Preg PureStressRelief 45
R350
Pure Stress Relief
R250
Shrink To Fit Treatment
R910
Stress Relieve Teen FBM
R270
TDS Add On
R75
Teen Brow Shape
R50
Teen DeepCleanse(10-12yr)
R220
Teen DeepCleanse(13-15yr)
R240
Thalgo BCA Day
R50
Therapeutic PresPoint Add
R200
Therapeutic PressurePoint
R300
Therapeutic Treatment
R425
Toe Ring Add
R20
UltraMud Add On
R40
Women's Day Gift
R0
Special Offers
Reset Detox Full Body Wrap R499, 45min Stress Relief Massage & Deep Cleanse Facial R490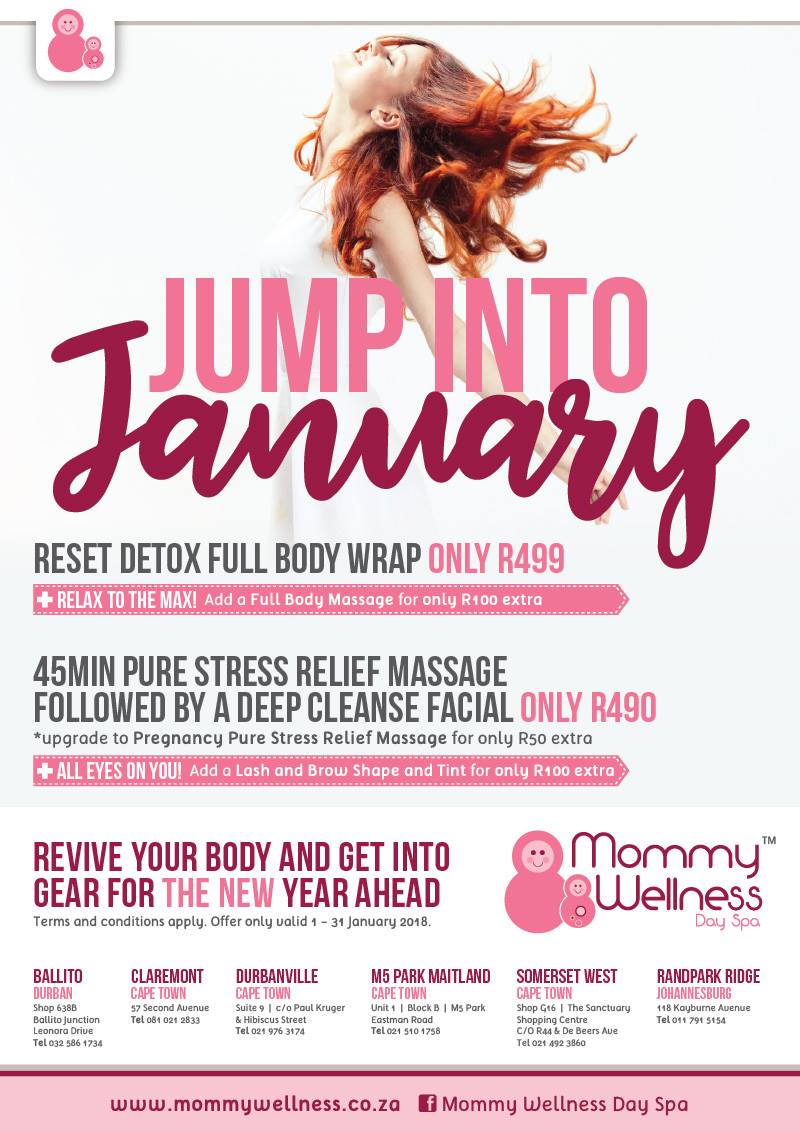 Enquire
about this
Mommy Wellness specialises in the Wellness of all Mothers. We offer services for moms-to-be, first time mothers, mothers that can handle 5 kids at a time and mothers that are grandmothers. We at Mommy Wellness have a passion for woman and mothers, because motherhood is a full time job and if Mommy is not happy = Her family is not happy.
Here at Mommy Wellness Day Spa, you can escape your busy career as a mother. Our highest priority is to ensure that Mothers are care for and that they feel special and beautiful again.
#3 out of 17 Spas in Durbanville
Reviews
Ambience

Cleanliness

Facilities

Staff

Value
Have you been here? Write a review
Showing 1-10 of 117 items.
Stephanie Carol Neser
I have just been for a back massage at the new Claremont branch and must say it was a fantastic experience. I walked in feeling very stressed after having two sick babies all weekend and walked out feeling so relaxed and ready to tackle the evening. Thank you so much!
Tracy Angus-Hammond
Your specialised treatments are an absolute life-saver. Nothing else helped my swollen feet, and then I found you! I have a feeling I'll be spending a lot of time with Phumla at your Randpark Ridge branch....
Justine Bell
What an amazing massage, mani and pedi today at the new Harfield Village branch! Great service, especially for opening day when everything is so new. Thank you for making my babymoon massage so memorable!
Ashley Sarah Warner
Most amazing massage. They make you feel so comfortable. My back felt incredible afterwards
Ntombizandile Zie MaSukude
I went to Mommy Wellness Durbanville and I had a massage. I enjoyed it .Thank you Mommy Wellness I would definitely come again
Lilani van Zyl
I had an bella-roze pregnancy massage for the first time & I can tell the sense of relieve on my back and neck mussels ?? Thank you Mommy Wellness I would surely recommend this to any pregnant mommy to be.
Simone Frolick
I had a massage today at the Durbanville branch it was amazing thank you so much.? pregnant moms its a must go.
Palesa Marumo
Thank you Phumla and Wellness Spa team for the great hospitality, I am definetly coming back for more treatments. I'm so relaxed and rejuvenated
Shanna Knezovich
Had such an amazing morning. The therapists are such a delight and the atmosphere is so beautiful. I highly recommend Mommy Wellness
Desere Stins
Always a pleasant experience! Thank you for making my girls birthday so memorable!
START