Rewarded
Per Donna Beauty & Wellness Clinic
6th Avenue, Melkbosstrand, Cape Town
Why not let us call you?
(within 5 mins)
THE PLACE
Type: Beauty and Wellness Clinic
Speciality:
Access: Parking lot
Open Plan: 1
Private Rooms: 2
Couples Rooms: 0
Therapists: 3
COMFORTS
Ambient Scent
Ambient Music
Comfortable environment
Female & male treatments
Restroom on premises
Payment by credit card
services offered
Lash Extensions
from R350
Nail Treatments
from R110
POPULAR treatments
Exuviance Facial Treatments
Deep Cleanse Phyto Enzyme Treatment
R480
Vitamin C Skin Treatment
R420
Phytic Clay Skin Treatment
R420
Rejuvenating Vita Gel Skin Treatment
R420
Lash Extensions Classic / Volume
Lash Extensions Classic / Volume - Full set
R550/650
Lash Extensions Classic / Volume - 2 week fill
R350/450
Lash Extensions Classic / Volume - 3 week fill
R400/500
Lash Extensions Classic / Volume - 4 week fill
R450/550
Lash Extensions removal
R150
Lash anti-wrinkle add on to lash lift
R180
Permanent Makeup by Debbie Nilsen
Natural Nail Care Treatments
Gel Add on to the above
R90
Parrafin Wax Dip Add on
R50
Nail Enhancements and Gel Overlays
Gel Sculpture Extensions with Colour Overlay
R520
Acrylic Tip Extensions with Gel Overlay
R490
Tip Extension with Gel Colour Overlay
R450
French Tip Extensions
R390
Silk & Gel Overlay on Natural Nail
R380
2 Week Acrylic Fill + New Overlay
R350
Lavender Base Treatment
R220
File & Polish (no cuticle work)
R110
Medi Heel Heels Only incl. Soak & Scrub
R180
Hot Paraffin Wax Add On
R50
Body & Slimming Treatments
LIPOGON Fat Dissolving Injections. consultation needed before treatment, cost depending on area and size
from R450
Reflexology by Wendy Stanfield
Special Offers
15% off all waxing every Wednesday. Book now!
Enquire
about this
Book any Kalahari facial and receive a free hot oil scalp treatment massage
Enquire
about this
Get tanned this Spring. Buy one full body spray tan and receive one free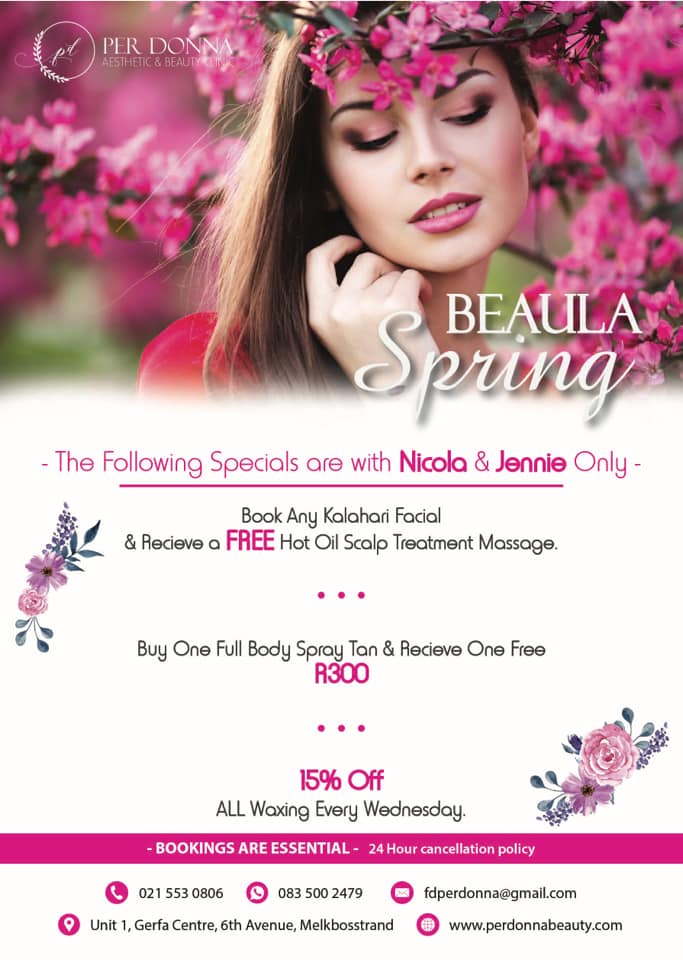 Enquire
about this
Per Donna Beauty & Wellness Clinic is situated in the heart of Melkbosstrand in 6th The salon is owned by Michelle Nel and Leana van Zyl and managed by Michelle. Michelle is supported by a professional team of experts including highly qualified therapist Ami Mari Parrott; Debbie Nilssen Permanent Make-up artist and Wendy Stanfield Reflexologist.
At Per Donna Beauty & Wellness Clinic we are dedicated and passionate to consistently provide high customer service satisfaction. Our aim is to provide excellent service; quality products and an enjoyable atmosphere at an acceptable price / value.
We also maintain a friendly; fair and creative work environment which respects diversity; ideas and hard work.Our Mission: To supply services and products that enhance our client's physical appearance; natural beauty and mental relaxation.
#3 out of 9 Beauty Salons in Melkbosstrand
Reviews
Ambience

Cleanliness

Facilities

Staff

Value
Have you been here? Write a review
Showing 1-10 of 66 items.
Lee-Anne Faulkner
Just had the most amazing Vit C facial at Per Donna!! Skin feels soooo smooth!! Thank you Ladies for your obvious care and passion towards your clients and their results ??
Annaline De Wet
went there twice and cannot wait for my next appointment..so clean and people are friendly and professional
Tracy Van Zyl
Per Donna Michelle Van Staden
Hughie Birch
PER DONNA IN SIX AVENUE
Wilma Smit
Michelle at Per Donna
Michelle Van Staden
Per Donna Beauty, Slimming & Tanning Melkbosstrand-Environ & Image Stockist
Mia Groenewald
Per Donna in Melkbosstrand can help you with Biosculpture xxx