Open Now
Signature Nail Bar and Beauty
Beauty Salon
Open Now
81 Langerman drive, South Kensington, Johannesburg, 2190
Rewarded
Signature Nail Bar and Beauty
81 Langerman drive, South Kensington, Johannesburg, 2190
Why not let us call you?
(within 5 mins)
THE PLACE
Type: Beauty Salon
Speciality: Nails
Access: off street
Open Plan: 1
Private Rooms: 3
Couples Rooms: 0
Therapists: 6
COMFORTS
Products available online
Stylish establishment
Comfortable environment
Fluffy towels
Refreshments served
Female & male treatments
Restroom on premises
Payment by credit card
Dedicated to Supreme Service
Relaxing atmosphere
services offered
treatments offered
GEL - Combo (Hands & Feet)
R500
GEL - Nail Art (per nail)
R20
ACRYLIC Natural Tip & Glaze
R380
ACRYLIC Overlay & Gel
R350
Express Mani & Polish
R180
Deluxe Mani & Polish
R200
Express Pedi & Polish
R200
Deluxe Pedi & Polish
R250
Signature Pedi (Medi-Pedi)
R400
Classic - 1 week fill
R170
Classic - 2 weeks fill
R300
Classic - 3 weeks fill
R380
Hybrid - 1 week fill
R220
Hybrid - 2 weeks fill
R350
Hybrid - 3 weeks fill
R400
Volume - 1 week fill
R240
Volume - 2 weeks fill
R370
Volume - 3 weeks fill
R450
Mega Volume - New Set
R600
Mega Volume - 1 week fill
R280
Mega Volume - 2 weeks fill
R400
Mega Volume - 3 weeks fill
R500
Special Offers
Women's Month Special!!!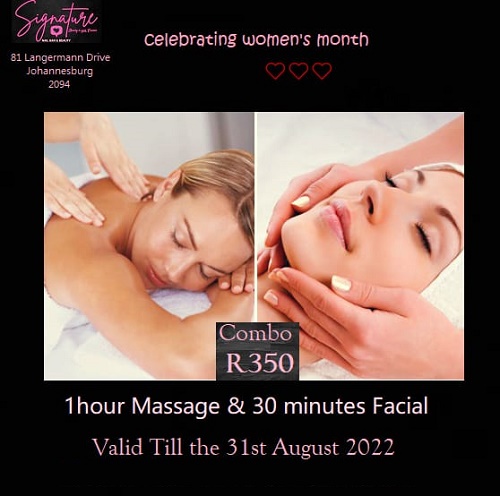 Enquire
about this
We believe that every woman deserves to be treated like and feel like royalty, as such all we do is all about you. Signature Nail Bar & Beauty is your go-to Beauty Salon in Johannesburg where we provide a space to play, relax, rejuvenate and reconnect with where it all starts - you. We're committed to making you look and feel your very best by providing elite products and a good range of bespoke treatments at affordable prices.
Our caring team of highly specialised therapists are here to listen to exactly what you want and guide you in the treatments and options that suit you best. We offer a wide range of nail treatments, facials, lashes, massages and waxing and we are also open on public holidays from 9am to 1pm.
#1 out of 1 Beauty Salons in Kensington
Reviews
Ambience

Cleanliness

Facilities

Staff

Value
Have you been here? Write a review
Showing 1-1 of 1 item.
Tell us what was your experience like?
What did you like?
What can be improved?
What would you recommend to others?
Hey I'm Betty looking for a job I did full beauty course