St Andrews Spa
22 Milner Ave, Bedfordview, South Africa
St Andrews Signature Hotel
Why not let us call you?
(within 5 mins)
THE PLACE
Type: Hotel Spa
Speciality: Massages and Body Treatments
Access: in hotel
Open Plan: 2
Private Rooms: 4
Couples Rooms: 3
Therapists: 6
COMFORTS
Wi-Fi
Ambient Scent
Ambient Music
Stylish establishment
Pool
Sauna
Relaxation room
Fluffy towels
Garden / outdoor space
Steam Room
Refreshments served
Bathroom with shower
Female & male treatments
Restroom on premises
Spa gown / slippers
Payment by credit card
Accommodation available
Restaurant on site
Air-conditioned rooms
services offered
POPULAR treatments
Kalahari Range Cocoon Wrap 30min
R470
Gel Polish Overlay 60min
R260
Special Offers
60min Swedish Full Body Massage R846 & More Autumn Specials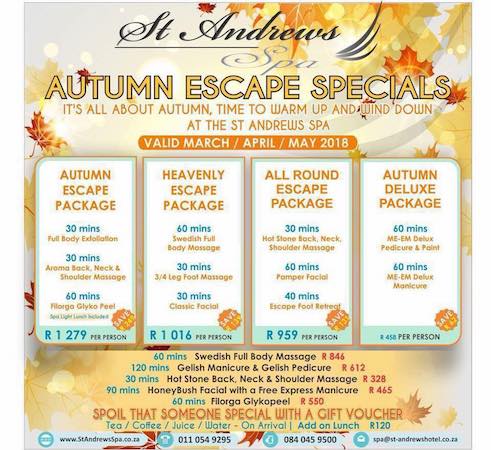 Enquire
about this
AntiAgeing Facial & Indian Head Massage 1.5hrs R760 & more Mothers Day Packages ...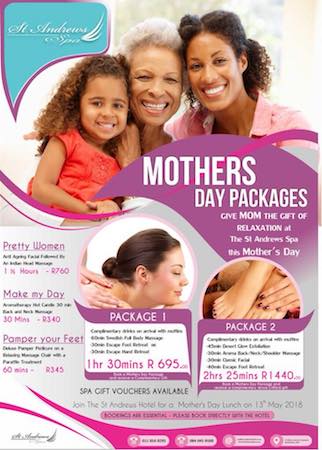 Enquire
about this
Sunday -> Wednesday Specials : Couples Swedish Full Body Massage & Free Foot Massage (1hr15min) R740 per couple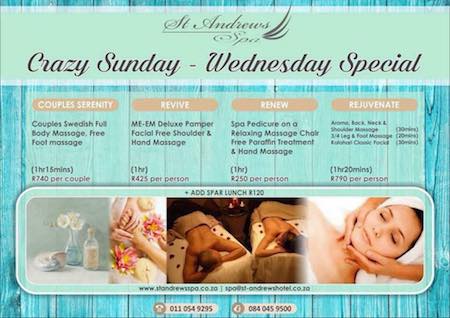 Enquire
about this
Pensioner's Day: 12% off all Treatments Every Tuesday
Enquire
about this
Mommy-To-Be Treatments: 30min Pre-Natal Massage, 40min Desert Glow Scrub, 45min Spa Manicure, 30min Express Pedicure, Light Luch & soft drink of your choice (2.5hrs) R1,050
Enquire
about this
Mini-Me Pamper Package: 20mins Mini Mani, 20min Mini Pedi & 20mins Mini Swedish Massage R390 (Ages 9-16)
Enquire
about this
Men's Package: 60min Swedish Full Body Massage, 60min Spa Pedicure, 30min Head Massage, Spa Light Lunch & Soft Drink of Your Choice (2.5hrs) R900
Enquire
about this
Group Package: 30min Back & Neck Swedish Massage & 30min 3/4 Leg and Foot Massage R550 (1hr)
Enquire
about this
Father's Day Specials: Full Body Massage, Foot Massage & Mens Facial R1150 2hr30min
Enquire
about this
Andrews Spa is truly a Unique Sanctuary of Relaxation and Personal Rejuvenation, where we seek to pamper you as never before. Fringed by the beauty of nature and perfectly situated on the rooftop of the St Andrews Hotel, overlooking Gillooly's Dam.
Our Spa is an experience not to be missed, with soft, soothing music flowing through the Spa, giving you the Escape and Ambience, that your Mind, Body and Soul long for. We use only the purest natural ingredients for their specific beneficial properties on our guests. Our aim is to provide each of our guests with a special, memorable experience in a tranquil environment, away from the stress, hustle and bustle of daily life.
We pride ourselves in the fact that we make YOU the most important person when you're at the St Andrews Spa.
#2 out of 25 Spas in Bedfordview
Reviews
Ambience

Cleanliness

Facilities

Staff

Value
Have you been here? Write a review
Showing 1-10 of 31 items.
Lucy Spinola
Your Spa Treatments are beyond amazing. This is why I keep coming back. Thank you to the St Andrews Spa for the best Treatments each and every time ?
Liza da Silva
Just had the most amazing Swedish full body massage at St Andrews Spa, and I love my new nails. Thank you Portia ?
Errolene De Klerk
Went in on a saturday to buy a gift package and not a soul to be seen! After half an hour of walking between spa, reception and restaurant decided to leave, how can I give a gift with such bad service, wont be back ?
Robyn Lowe
Jessicah is amazing... My nails have never been in such good condition, I am so happy, Thank you!
Oceann Hlengiwe Makalima
Heaven on earth...I must say! Best experience ever!
Jabulile Zulu Maseko
Beautiful, excellent venue & service thank you???
START