Open Now
Suubi Day Spa
Day Spa
Open Now
79 Rustenburg Rd, Emmarentia, 2195, Randburg
Rewarded
Suubi Day Spa
79 Rustenburg Rd, Emmarentia, 2195, Randburg
Why not let us call you?
(within 5 mins)
THE PLACE
Type: Day Spa
Speciality: Massages
Access: Off street, own parking
Open Plan: 1
Private Rooms: 0
Couples Rooms: 1
Therapists: 3
COMFORTS
Wi-Fi
Comfortable environment
Pool
Creche / childcare
Fluffy towels
Garden / outdoor space
Refreshments served
Female & male treatments
Restroom on premises
Payment by credit card
Dedicated to Supreme Service
Relaxing atmosphere
treatments offered
Traditional Thai 1h / 1h30min
R400/R600
Aroma Thai 1h / 1h30min
R420/R500
Environ FOCUS-ON Facial Treatments
Focus-On FROWN Treatment 30min
R280
Focus-On EYE Treatment 30min
R280
Focus-On TEXTURE Treatment 30min
R280
Focus-On EVEN TONE Treatment 30min
R280
Environ Essential Facial Treatments
Essential VITAMIN TOUCH 30min/45min
R300/R450
Essential YOUTH RESET 1h/1h30min
R600/R770
Essential MOISTURE BOOST 1h/1h30min
R600/R770
Essential COMFORT CALM 1h/1h30min
R600/R770
Essential RADIANCE REVEAL 1h/1h30min
R600/R770
Ears / Nose wax 20min
R80
Full Leg - Female 1h
R250
Three-Quarter Leg 1h
R200
Half Leg - Female 30min
R190
Half Leg - Male 30min
R250
Half Arm - Female / Male 30min
R150
Underarm - Female / Male 30min
R110
Hollywood - Female 1h
R270
Bikini - Female 45min
R140
Stomach - Female 45min
R150
Stomach - Male 45min
R280
Nail It Mani - Nail Paint Application Only 20min
R40
Full Mani without Nail It 45min
R180
Full Mani & Gel 1h 30min
R360
Half Way Mani & Gel 1h
R280
Full Pedi & Gel 1h 30min
R390
Half Way Pedi & Gel 1h
R310
Nail It Pedi - Nail Paint Application Only 20min
R60
Full Pedi without Nail It 45min
R210
Medi Pedi plus Nail It 2h
R450
Add on: Paraffin wrap 20min
R150
Soak Off + Nail It 1h
R100
Soak Off before new set 1h
R40
Soak Off Gel before new set 1h
R50
Stick It - stick on art 1 nail
R15
Art It - draw on art 1 nail
R20
Hyperli Single Treatment 1h 45min
R399
Kiddy Full Mani 45min
R100
Kiddy Full Pedi 45min
R100
Special Offers
Mother's Day SPECIALS valid for 1 - 31 May 2022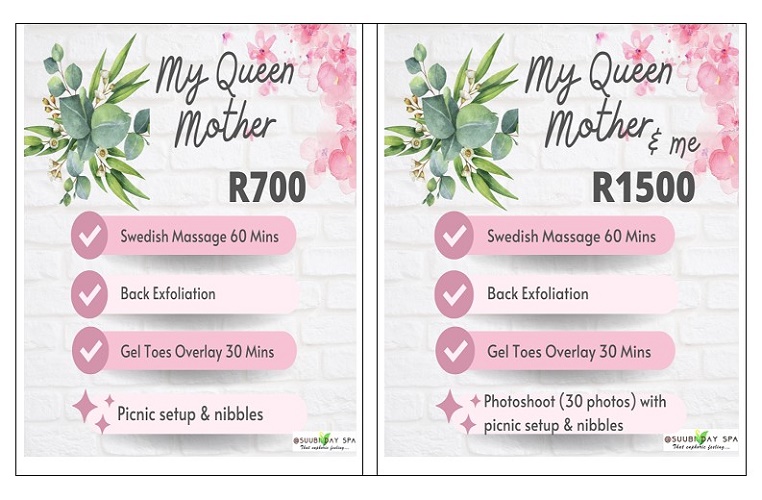 Enquire
about this
Bride & Groom pre-wedding pamper!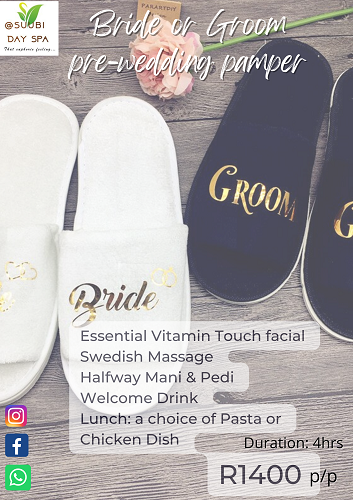 Enquire
about this
Suubi Day Spa allows everyone to feel that special feeling of euphoria through a variety of treatments, including facials, massages, nail treatments, hand and feet pampering, eye treatments and gentle
waxing. Their tranquil inner city location is perfect to enjoy a Spa treatment alone or with friends and family.
#2 out of 2 Day Spas in Emmarentia
Reviews
Ambience

Cleanliness

Facilities

Staff

Value
Have you been here? Write a review