Click here for All Salons, Reviews and Bookings
DERMACEUTIC C25 cream
Dermaceutic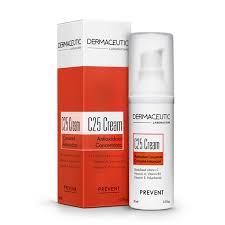 Dermaceutic C25 Antioxidant Day Cream is recommended for all skin types with irregular complexion and loss of radiance and is particularly suited to those who are wanting to start a quality anti-ageing skincare regimen to prevent skin ageing. We recommend caution when introducing this product to those with sensitive skin.
Key ingredients includes:
25% Vitamin C Complex, which includes Methyl Ascorbic Acid, a very stable, non-irritating form of Vitamin C and an antioxidant that helps to reduce the visible signs of skin ageing.
Vitamin A (Retinyl Palmitate) improves the structure of the skin and helping to reduce fine lines and wrinkles, uneven skin texture and hyperpigmentation.
Vitamin B5 reduces water loss and keeps the skin smooth and elastic due to its moisturising properties.
Vitamin E is renowned for its antioxidant properties and also combats the signs of photo-ageing.
Polyphenols which are naturally present in plants and fruit combats the action of free radicals and preserves the integrity of the skin's collagen.
Paraben-free
Rating
Brand

Where you can buy DERMACEUTIC C25 cream ONLINE
FREE DELIVERY to your home or office
rivacy Policy