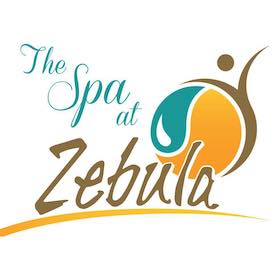 Now Closed
but you can still book
The Spa at Zebula
Spa
Farm No 534 KQ, D1000 Road, Mabula District, Bela Bela, 0480, Waterberg, Limpopo
Rewarded
The Spa at Zebula
Farm No 534 KQ, D1000 Road, Mabula District, Bela Bela, 0480, Waterberg, Limpopo
Why not let us call you?
(first thing when we open)
THE PLACE
Type: Lodge Spa
Speciality: Massage and Body Treatments
Access: Private Parking
Open Plan: 0
Private Rooms: 7
Couples Rooms: 1
Therapists: 7
COMFORTS
Products available online
Ambient Scent
Ambient Music
Comfortable environment
Pool
Hydro
Relaxation room
Fluffy towels
Garden / outdoor space
Place to hang your clothes
Changing rooms
Refreshments served
Female & male treatments
Restroom on premises
Spa gown / slippers
Payment by credit card
Accommodation available
Restaurant on site
Air-conditioned rooms
Relaxing atmosphere
services offered
Kiddies Treatments
from R240
Body Treatments
from R500
treatments offered
SIGNATURE MASSAGE THERAPIES
MASSAGE ENHANCERS - Add-Ons to any massage
Cellulite / Circulating Leg Treatment
R180
Lilian Terry Mask per area
R165
Muscle Rescue Mask per area
R110
Muscle Relief Gel per area
R65
ESSE ORGANIC SKINCARE FACIALS
Esse Experience 30min/60min
R535/R790
Ultimate Esse Experience 120min
R1280
SIX TRANSFORMATIONAL SKINCARE FACIALS
Energizing Skin Treatment 30min
R445
Rejuvenating Skin Treatment 60min
R770
FACIAL ENHANCERS - Add-Ons to any facial
Bio-Therapeutic Lift for an instant lifting effect
R275
Bio-Therapeutic Micro for deeper product penetration
R170
Bio-Therapeutic Nano Lifting Eye Treatment
R165
Lilian Terry Body Experience 120min
R1625
Ultimate Cellulite Treatment 120min
R1535
African Bushveld Body Glow 30min
R500
Scrub Rub Glow 30min
R600
Omega Revive Package 90min
R1185
Zebula Breakaway Package 2h 30min
R1540
Ultimate Romantic Breakaway Package 2h
R1450pp
Ultimate Romantic Breakaway Package 2h (per couple)
R2650
Indulgence Spa Package 2h 15min
R1595pp
Indulgence Spa Package 2h 15min (per couple)
R2860
Personalised Spa Package 90min/3h
R1180/1950
Personalised Spa Package 4h 30min (including lunch)
R3245
Lilian Terry homeopathy spa bath 30min
R275
Spalicious therapy oil spa bath 30min
R275
File and Paint with gel
R300
File and Paint with nail polish
R250
Brow/Chin/Lip Wax
R150each
Lilian Terry Pregny Pamper 120min
R1350
KIDDIES TREATMENTS 7-14 yrs
Special Offers
Autumn Escape Personalized Package valid until 31 May 2022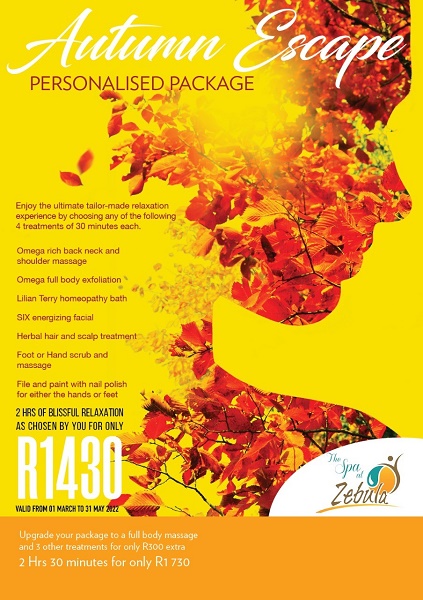 Enquire
about this
World-leading therapies meet the heart and soul of Africa at The Spa at Zebula.
The Spa at Zebula is a luxurious place to retreat, renew and rediscover yourself. Whether you are visiting for a single spa service or a full day experience, we want your visit to be as relaxing and rewarding as possible. The spa offers a wide range of treatments and therapies that will have you spoilt for choice, with 10 private treatment rooms complemented by a 3 meter raised deck, overlooking the bush on which open air pampering manicure and pedicure treatments are highly recommended.

Our highly-trained, discreet and attentive therapists are on-hand to ensure that your desired treatment is a memorable one. Relax while we combine nature's inherent healing and beautifying qualities with the very latest technologies to create balance and harmony of the body.

Our Spa offers private and double massage rooms with en-suite jacuzzi's. There are an indoor pool as well as two outdoor jacuzzi's and sun beds that are set in a tranquil bird garden – the perfect place to unwind and relax.
#1 out of 1 Spas in Fauna
Reviews
Ambience

Cleanliness

Facilities

Staff

Value
Have you been here? Write a review
Showing 1-10 of 75 items.
Tell us what was your experience like?
Average
What did you like?
Staff were friendly
What can be improved?
Facilities at Spa need a revamp I was sold a product that cost R360 but expired 9 months ago!! Shocking!! Extremely expensive for an average experience.
What would you recommend to others?
Nothing
Marilize De Bruin
Effie gives the most divine back and neck massage! Thank you!????????
Andrew Neumann
Great houses to rent. Private and well appointed.
Mapule Clementine
if u want to take a chill pill n have that natural environment n relaxation come at Zebula
Monica Frankland
The rooms,the amenities, the restaurant, the staff, the beautiful surroundings. All 100% Our Daughter and Son-in-Law got married at AWE 2 weeks ago and we had the Wedding meal back at Zebula. We had a chef and waiters at the property that we were staying at, and everything was just perfect. A wonderful place, giving us all some wonderful memories ??
Emma Carne
Beautiful estate. Stunning properties in perfect surroundings. Best game viewing on a quad bike ever. Restaurant is truly 5star. Great menus and a fantastic chef. The buffet breakfast was delicious. Excellent 18 hole golf course. 5 star customer service. Would love to return one day.
Anthony Tony Masenya
Home away from home. The place to be. Everything is exquisite.
Colin Andrew Hood
Stayed here and loved it so much
Tshepo Kgobe
Our first Epic holiday for my wife's birthday was here...
Tshegi Teigh Ramz
The houses are absolutely amazing. The views are incredible and its inviting ??????actuvities are fun