Open Now
Advanced Beauty Clinic
Aesthetic Clinic
Open Now
Belvedere House, 64 Belvedere road, Claremont, Cape Town
ask any question
Rewarded
Advanced Beauty Clinic
Belvedere House, 64 Belvedere road, Claremont, Cape Town
Opposite Belvedere Square Shopping Centre entrance gate
Why not let us call you?
(within 5 mins)
THE PLACE
Type: Aesthetics Clinic
Speciality: Skincare
Access: Off street
Open Plan: 0
Private Rooms: 1
Couples Rooms: 0
Therapists: 4
COMFORTS
Comfortable environment
Female & male treatments
Restroom on premises
Payment by credit card
Air-conditioned rooms
services offered
Advanced Skin Tretment
from R1650
Soft Skin Resurfacing Treatments
from R550
LED Light Therapy
from R250
Radiofrequency Skin Tightening Face and Neck
from R250
AQ Human Growth Factors Therapy
from R3500
Thermocoagulation Radiofrequency
from R450
Fibroblast (Plasma Device)
from R250
Body Recontouring and Anti0Cellulite
from R250
POPULAR treatments
Consultation with Skin Analysis
R350
Consultation with Skin Scanner Analysis
R550
Mesoestetic Depigmenting Protocol
R1650
Depigmenting Package of 6 Treatments
R8500
Cosmelan 5 Products Starting Kit
R10400
Periorbital Treatment Protocol 6 Treatments
R2850
SOFT SKIN RESURFACING TREATMENTS
Neck and Decollete Resurfacing
R550
ZO Obagi Deep Cleanse
R550
Added to any other skin treatment
R250
RADIOFREQUENCY SKIN TIGHTENING FACE AND NECK
Add on other treatment
R250
Package of 10 Treatments
R4000
IPL (INTENSE PULSED LIGHT)
Single Treatment Face / Neck / Decollete
R500
Package of 6 Treatments
R2900
MICRONEEDLING (COLLAGEN INDUCTION THERAPY)
Dr Pen Face and Neck
R1500
Medical Derma Pen 4 Face
R1600
Medical Derma Pen 4 Face & Neck / Decollete
R1800
PRP (PLATELETS RICH PLASMA) VAMPIRE FACIAL
Package of 4 Treatments
R15200
AQ HUMAN GROWTH FACTORS THERAPY
Skin Rejuvenation (Face and Neck)
R3500
Package of 4 Treatments Including Free Active GF Serum for Homecare
R14000
MESOTHERAPY AND BIO-REVITALISATION (AUTOMATED INJECTOR)
Bio-Revitalisation with HA Face
R2500
Bio-Revitalisation with HA Face and Neck
R2800
THERMOCOAGULATION RADIOFREQUENCY
Skin Benign Lesions, Cherry Angioma and Broken Capillaries Removal
R450
Plus Shots, Price for one shot
R0,50
FIBROBLAST (PLASMA DEVICE)
Skin Benign Lesions (Moles, Skin Tags, Xanthelasma, DPN, Mila, Seborreic hyperplasia, Seriingoma)
from R350
Upper Eyelids incl Crow's Feet or Brow Lift
R2500
Under eyes incl Crow's Feet
R2500
Wrinkles in front of ears
R1950
Stretch Marks Any Area
POA
Skin Tightening Any Area
POA
Fractional Plasma Skin Tightening Face and Neck
R750
AQ Growth Factors Therapy
R3500
Single 35 mins Treatment
R350
Single 45 mins Treatment
R450
Package of 10 Treatments 35 mins
R3200
Package of 10 Treatments 45 mins
R4000
MESOTHERAPY ANTI-CELLULITE, STRETCH MARKS, SKIN LAXITY
RADIOFREQUENCY SLIMMING, LIFTING AND ANTI-CELLULITE
ELECTRO-MUSCLE-STIMULATION (EMS)
10 Treatments Package
R2200
Pressure Therapy Single Treatment
R250
Pressure Therapy 10 Treatments Package
R2200
IPL LASER PERMANENT HAIR REMOVAL OR EPILFREE
Full Bikini (Female Only)
R520
Bikini (Female Only)
R150
Hollywood (Female Only)
R350
Special Offers
Save R825! Purchase 4 pHformula Skin Resurfacing Treatments with an MD Homecare Kit and SPF30+ for only R3810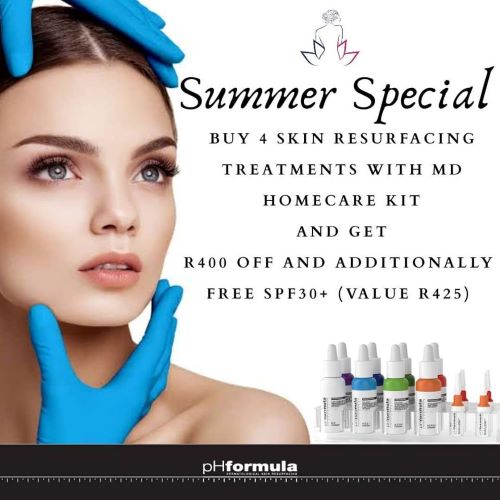 Enquire
about this
Advanced Beauty Clinic is an aesthetic and anti-ageing clinic, which offers you therapeutical and non-surgical solutions for your skin and your dream body.
My main focus is to improve and preserve the skin condition by using the latest advanced technology, specific machines, therapy and products to achieve the best results possible in treating acne, scars, hyperpigmentation, premature ageing, sun damage, wrinkles, cellulite, loose skin, permanent hair removal and removal of skin tags, broken capillaries, angiomas, fibromas etc.
My other focus is the prevention of skin ageing by performing active ingredient facials, peels and professionally prescribed homecare products.
I use the latest skin analyses diagnostic equipment as it is essential to prescribe the most appropriate treatment and homecare to each of my individual clients.
#4 out of 5 Aesthetic Clinics in Claremont
Reviews
Ambience

Cleanliness

Facilities

Staff

Value
Have you been here? Write a review
Showing 11-16 of 16 items.
Irina Dutton
Olga is very professional and knowledgeable. Deffinetly will be back for my IPL treatment. My skin feels good. Thank you
Deborah Orford Lacey
Very professional. Was very happy with my facial. Will definitely be back for more.