Open Now
Chameleon Aesthetic & Laser Clinic
Laser Clinic
Open Now
Cnr R44 & De Beers Avenue Somerset West, Western Cape
ask any question



Chameleon Aesthetic & Laser Clinic
Cnr R44 & De Beers Avenue Somerset West, Western Cape
Why not let us call you?
(within 5 mins)
THE PLACE
Type: Aesthetics and laser clinic
Speciality: Body treatments
Access: Street and car park
Open Plan: 0
Private Rooms: 4
Couples Rooms: 0
Therapists: 3
COMFORTS
Comfortable environment
Fluffy towels
Heated treatment bed
Place to hang your clothes
Female & male treatments
Spa gown / slippers
Payment by credit card
services offered
Permanent Make-up
Beauty Treatments
Body Treatments
Hands & Feet
POPULAR treatments
Occasional Make-up (Evening
R300
Chili Cellulite & Detox Wrap (1st Treatment)
R300
Eyelash extension incl. tint
R500
Special Offers
20min Back Massage, 20min Collagen Eye Machine Treatment & Mask, 20min Foot Ritual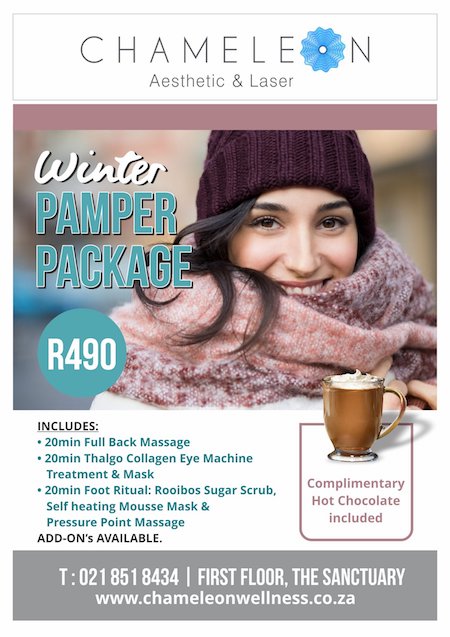 Enquire
about this
Aesthetic - Beauty - Health - Slimming - Alma Laser Hair Removal - Botox & Fillers - Tancan & Spraytan
#1 out of 2 Laser Clinics in Somerset West
Reviews
Ambience

Cleanliness

Facilities

Staff

Value
Have you been here? Write a review
Showing 1-10 of 27 items.
Katherine McGinn
I know we currently live in a day and age where women are supposed to love themselves and embrace their bodies and all that jazz, but I've got to be honest, the stretch marks, I can accept. And the cellulite, well it is what it is but I still prefer having a little suntan to make it look better. But I have one serious issue with my body; I am half Neanderthal. Seriously, someone gave me an extra dossage of hair growth and my tummy is hairier than most of my male friends'. So ...when I heard of Chameleon Asthetics and their awesome Alma Soprano Ice Laser, I got super excited. You see, for years, I have been wanting to go for laser hair removal but everytime I pluck up the courage to go for a session, I get told that my skin is too dark, or that because I have a suntan I will get horrible scarring. I also hear the warnings from my friends telling me how much it hurts. And so inevitably, I leave the clinic with nothing to show for it. Well, in a weeks time I will be going back for my fourth session wit
Delfina De Roque
Doing a few melano peel sessions with Lilanie for my pigmentation and wow the results are showing I'm amazed and so happy I found her. Lanie is the best
Joseline Hilario
Lilanie is amazing, helped me loads with my pigmentation. Thank you
Liezel Le Roux
Thanks for the great service! Spray tan always looks great. Thanks again!!
Zatley Mason Jacobs
Thank you Ashleen for spoiling me on my Birthday today I had the most awesome time with you guys you are a wonderful crowd at Chameleon I feel very special.Keep Up The Good Work
Yolandé Koegelenberg
Great experience! Friendly sraff! Treatments are amazing! An absolute must ?
Marile Willemse
Amazing service and great advice. Lanie is really clued up and goes out of her way to accommodate and help you! Professional, friendly and situated on the first floor of the Sanctuary, so you don't have to face people when you just had a facial or wax done, very convenient!!
Franzel Dreyer
I would just like to take some time to tell you about my wonderful experience at Chameleon today. Lanie is so friendly and professional, I trusted her from our first Hello. I absolutely love my lashes. She was patient, took time to explain the procedure and discuss my preferences and the look I desired. I will definitely recommend them. The treatment rooms are beautiful and tranquil. Thank you so much Lanie - my husband appreciated the coffee xx
Renée Shirley
Just went to get some hair removal with the new Alma machine. It was a great experience and hurt so much less than normal hair removal treatment. Thank you so much for everything!!!! Great new clinic!!!! U guys r amazing! ??????? Lilanie the owner is just so amazing and made me feel so comfortable
Gretchen Appollis
Since going to Chameleon for the first time for a brow wax I was hooked. I went for eyelash extensions and gel nails today for my very first time and the ladies truly did an amazing job!!! They made me feel so special and like a real VIP. I'd definitely recommend Chameleon to anyone and everyone. Excellent service!!!
START