Rewarded
Fordoun Spa
Nottingham Road, Midlands, KwaZulu-Natal, South Africa
Midlands
Why not let us call you?
(within 5 mins)
THE PLACE
Type: Hotel Spa
Speciality: Massages and Body Treatments
Access: In hotel
Open Plan: 1
Private Rooms: 5
Couples Rooms: 1
Therapists: 12
COMFORTS
Wi-Fi
Ambient Scent
Ambient Music
Luxury environment
Stylish establishment
Pool
Hydro
Creche / childcare
Sauna
Relaxation room
Fluffy towels
Garden / outdoor space
Heated treatment bed
Steam Room
Place to hang your clothes
Changing rooms
Refreshments served
Showers
services offered
Body Treatments
from R500
Special Offers
May Specials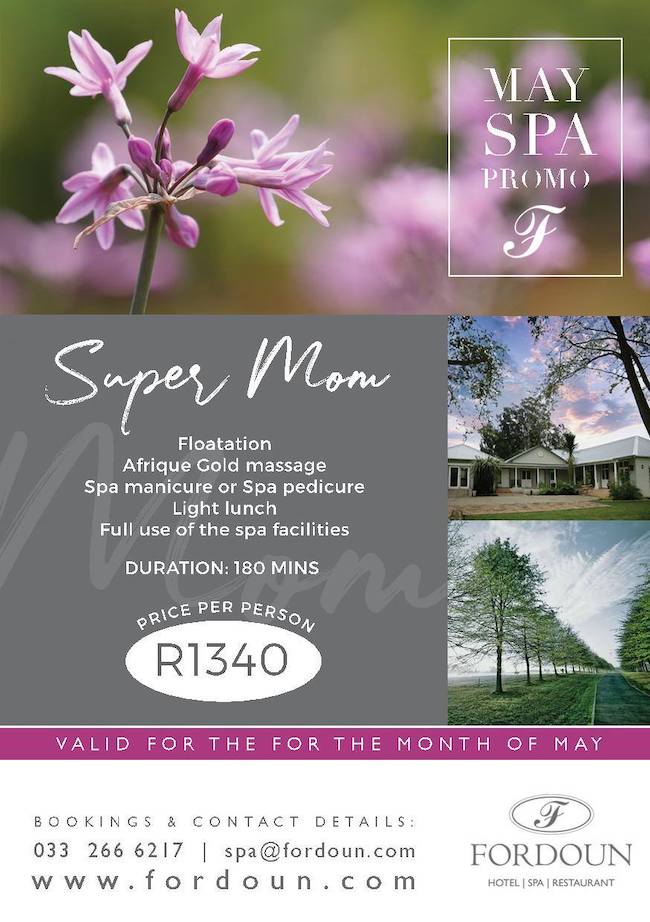 Enquire
about this
The spa features internationally acclaimed treatments such as the rasul, (a Turkish steam and clay treatment room), a saline Floatation pool, indoor swimming pool, a gymnasium, sauna, steam room, vichy shower, hydrotherapy room, and a couples' treatment suite with hydrotherapy bath.
Treatments available at Fordoun include:
Aromatherapy body and bath treatments, using exotic blends of essential oils to suit each customer's needs;
Totally unique African treatments which include the Indulgent African Earth Experience and the Inkomfe (African Potato) healing wraps;
Hydrotherapy baths and showers;
Various massages, including Deep Tissue massage, Ndukuduku massage, Swedish and Aromatherapy.
#1 out of 1 Spas in Cungewane
Reviews
Ambience

Cleanliness

Facilities

Staff

Value
Have you been here? Write a review
Showing 1-10 of 218 items.
Adrian Maharaj
the peace and tranquility, the smell of fresh air, sumptuous meals will get u coming back for more
Cheyne Rae Stainer
Our suite was luxurious and service was fantastic. We were made to feel at home and had a wonderful stay. We would highly recommend Fordoun to others.
Jessica Gopal
Celebrated our 20 year wedding anniversary recently at Fordoun. The place is amazing. The staff are absolutely incredible n so friendly. Dinner was delicious. Enjoyed the spa treatments. Had an amazing experience at Fordoun
Trish Fann Elkington
Everything is top class. The staff are so friendly and accomodating
Lilian Hamilton
Forduin never ever disappoints. BEST Hotel Rooms Food Service Staff and place to completely relax. We'll be back !
Nava Naidoo
An hours drive from Durban, I was beautifully surprised. upon arrival at the Spa, was overwhelmed by the sheer beauty and trAnquility of this. the setting, ,the decor, the ambiance the hospitality was just amazing. the company was great as well, with us enjoying much laughter because we wAnted to eat all the biscotti in the jar because it was tasty! fluffy gowns and slippers handed to us, valuables safely locked away we were ready ....... for me it was the most beauti...ful of all that I have been to., the Jacuzzi was " a Zulu bath", probably because of ingredients used, followed by a 90 minute massage that was perfect, not rushed or rough, just wonderful, the aesthetics of the massage room just blew me away as well, fresh roses, pleasant colour curtains,lazy boy couches,, frosted glasses of lemon water to quench your thirst. having the luxury of staying overnight I was gobsmacked at all details of the room, high ceilings, tasteful paintings comfortable beds, heated floors, heated towel rails, abundant teas a
Amanda Ferneyhough
Fordoun deserves every star awarded to it. The attention to detail and friendly staff made our stay perfect. Every request was adhered to and the atmosphere was so peaceful. The spa facilities were first class and very clean. The treatments were excellent and left us feeling pampered and relaxed. We chose the romantic indulgence package which proved to be excellent value for money. The food was absolutely delicious and there is a wide variety of choices on the menu. I would definitely recommend fordoun for a peaceful and luxurious getaway.
Denver Govender
I will say this time and time again, Fordoun is my home away from home! 5 Star hospitality friendliness and treatment! The best in the Midlands