Now Closed
but you can still book
Health and Beauty with Angela
Beauty Salon
72 Wimbledon Way, Edgemead
ask any question
Rewarded
Health and Beauty with Angela
72 Wimbledon Way, Edgemead
A12 Edgemead Park
Why not let us call you?
(first thing when we open)
THE PLACE
Type: Skincare Beauty Salon
Speciality: Skincare Specialist
Access: Parking Lot
Open Plan: 1
Private Rooms: 1
Couples Rooms: 0
Therapists: 2
COMFORTS
Ambient Scent
Comfortable environment
Place to hang your clothes
Female & male treatments
Restroom on premises
Payment by credit card
services offered
Virtual Consultations
Epilfree Treatments
from R220
POPULAR treatments
Introductory Virtual Consultation 15mins
Free
Full Virtual Consultation
R350
Oily/ Acne/ Problematic Skin
R385
Dry/ Dehydrated/ Sensitive Skin
R550
O2 Life- Oxygenation
R605
Destress, Lymph Drainage (15min)
R110
Deep Tissue, Relaxing (30min)
R275
Foot and Leg (45min)
R330
Foot and Leg (60min)
R440
Lip/ Chin/ Brow/ Ears and Nose
R55
Lip/ Chin/ Brow/ Ears and Nose
R220
Brow Wax & Tint (20min)
R110
Day- Light Natural (30min)
R275
Evening and Special Occasion (30min)
R385
Special Offers
August - Woman's month
Enquire
about this
Lashes & brows like never before!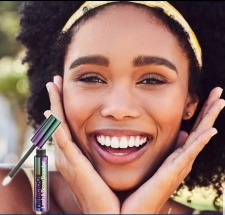 Enquire
about this
Woman's month specials!!!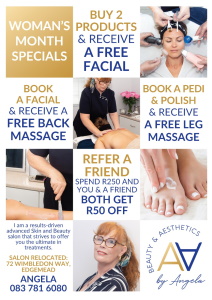 Enquire
about this
Order your favorite products!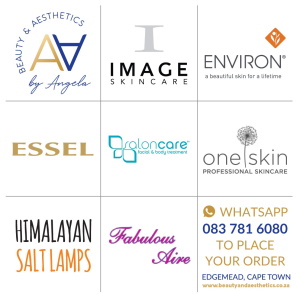 Enquire
about this
Qualified Therapist Angela Steyn comes with 35 years of experience in Beauty & Facial Aesthetics.
Her passion is treating various skin conditions, such as Rosacea, Pigmentation, Acne, Scarring and Anti-ageing.
#8 out of 22 Beauty Salons in Edgemead
Reviews
Ambience

Cleanliness

Facilities

Staff

Value
Have you been here? Write a review
Showing 1-10 of 18 items.
Clarissa Lester Witten
I was recently treated to a facial at Health and Beauty with Angela - and it was truly amazing! My skin felt rejuvenated, refreshed and was glowing. Angela is brilliant at what she does and has an excellent knowledge of her products. I'd highly recommend her.
Laurita Da Costa
Dear Angela.Thank you for my facial today.Thank you for your advise regarding my daily facial care routine.Always feel on top of the world after receiving a treatment from you.?????
Jannine Pretorius
Truly wonderful facial today, and relaxing environment , thank you
Sheila Meyer-Steyn
awesome lymph drainage massage.
Andrea Lindsay
Your one stop beauty treatment salon. Do your hair, nails, waxing and spray tanning all under the same roof, with only the best therapists ??
Rene De Wet
I've been using Image Prevention 30+ daily tinted moisturizer for 2 years and I just want to say what an exceptional product this is ! It goes on so smoothly and really agrees with my lifestyle as you only need one product that does 3 Jobs excellently !!! I highly recommend this product to everyone and it last forever as a little goes a long way ? thanks Angela for recommending it ?
Denise Sewell
Would recommend Angela without hesitation!
Roxanne Swartz
I've had the privilege of many wonderful treatments with Angela and can say without a doubt that her honesty, attention to detail, upkeep with new products/techniques and brilliant prices are all second to none. I always leave feeling balanced, revitalised and super happy. Thank you so much for all your great care Angela! You really are an outstanding health and skincare therapist. xxx
Shanice Mitchell
Had such an amazing facial and dermaplaning treatment..skin feels rejuvenated and so smooth ? thanks Angela!
Chantal Smit
Thank you Angela for my Incredible Dermaplaning Treatment. My skin feels rejuvenated, fresh and silky smooth.