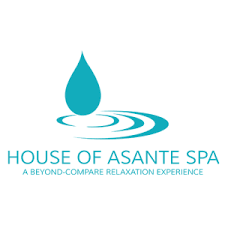 Now Closed
but you can still book
House of Asante Spa Polokwane
Spa
29 Jorissen Street, Polokwane, 0699
Rewarded
House of Asante Spa Polokwane
29 Jorissen Street, Polokwane, 0699
Why not let us call you?
(first thing when we open)
THE PLACE
Type: Spa
Speciality: Massages,Facials,Body treatments,Beauty&Hair,Nail bar
Access: Off street
Open Plan: 1
Private Rooms: 2
Couples Rooms: 2
Therapists: 15
COMFORTS
Products available online
Comfortable environment
Pool
Sauna
Relaxation room
Fluffy towels
Garden / outdoor space
Steam Room
Place to hang your clothes
Changing rooms
Female & male treatments
Spa gown / slippers
Dedicated to Supreme Service
Relaxing atmosphere
services offered
Nail enhancement
from R25
Microcurrent Anti-Aging Face Lift
from R120
Professional make-up
from R210
Hydrotherapy whirlpool treatments
from R570
Foot Spa Therapies Packages
from R750
Signature treatments
from R980
treatments offered
Lumafirm lift & glow eye contour treatment 40min
R431
High performance lightening treatment 90min
R845
Spa Teen blemished skin in-spa treatment 50min
R391
Spa Teen Papaya Hydra-soothe in-spa treatment 50min
R468
Complementary facial treatments
Ampoule collection extra
R287
Ultimate renewal high performance eye lift treatment 40min
R391
Eye treatment for puffiness & dark circles 30min
R287
Youthful lip treatment 30min
R713
Microcurrent Anti-Aging Face Lift
Full Face Lifts 45min
R518
Cheer & Smile Lift 15min
R207
Neck & Chin Lift 15min
R207
For longer lasting lift - 8-10sessions x2 per week
R4140
For longer lasting lift - 10-12sessions x2 per week
R4945
For longer lasting lift - 12-15sessions x2 per week
R6152
Foot Spa Therapies Packages
Circulating foot and leg treatment 90min
R570
Draining foot and leg treatment 90min
R570
French paint for hands & feet 60min
R175
Anti-Aging hand treatment
R405
Turkish Hamman treatment 90min
R980
Moroccan Hamman treatment 90min
R1095
Egyptian Hamman treatment 90min
R1210
Joints & muscles wrap (marine mud wrap) 60min
R495
Toning & Slimming treatments
Hydrofusion treatments & express facial
Skin Rejuvenation Programme
R750
Energy Boost for Sluggish Body
R750
Pain Relief for Sore Muscles & Joints
R750
Slim, Trim & Smooth (weight loss)
R750
Detoxification Programme
R750
Kneipp Treatment (for circulation)
R750
Stress Reduction (Mental Ease)
R750
Sleep / Meditation (Sleep Restorative Therapy)
R750
Anti-Aging (Wrinkles Away)
R750
Hydrotherapy whirlpool treatments
Mineral Bath & Linen wrap
R570
Full Leg & Bikini Line
R485
Eyebrow Shape & Tint
R115
Photographic make-up
R345
Eyebrow Shape & Tint
R115
Eyelash Extension (3 weeks)
R290
Eyelash Extension (3 months)
R865
Nail repair (per nail)
R35
Special Offers
Winter Special for JULY!!!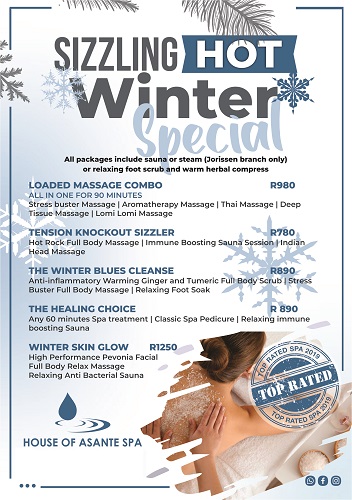 Enquire
about this
Situated in the heart of Polokwane, House of Asante Spa focuses on wellness and the promotion of a healthy, sustainable, stress free lifestyle and wellbeing.The Spa is offering a wide range of massages, facials, body treatments, waxing, nail care, professional make-up as well as a hair spa and a kiddies spa.
Using organic products with natural ingredients of sea weeds and algae, sea salt and sea water along with natural approaches, the Spa provides a beyond-compare pampering experience in a totally relaxing environment.
#1 out of 1 Spas in Polokwane
Reviews
Ambience

Cleanliness

Facilities

Staff

Value
Have you been here? Write a review