Rewarded
The Nail & Beauty Company
Laguna Mall, Langebaan, Western Cape
Why not let us call you?
(within 5 mins)
THE PLACE
Type: Nail Salon
Speciality: Nails
Access: in shopping mall
Open Plan: 2
Private Rooms: 1
Couples Rooms: 0
Therapists: 3
COMFORTS
Ambient Scent
Ambient Music
Garden / outdoor space
Place to hang your clothes
Refreshments served
Payment by credit card
services offered
Evo Gel Polish Overlay
from R180
Bio Sculpture Gel Overlay
from R250
POPULAR treatments
Bio Sculpture Gel Toe Overlay
R170
Bio Sculpture Gel Full Set
R330
Special Offers
Winter Warmer Specials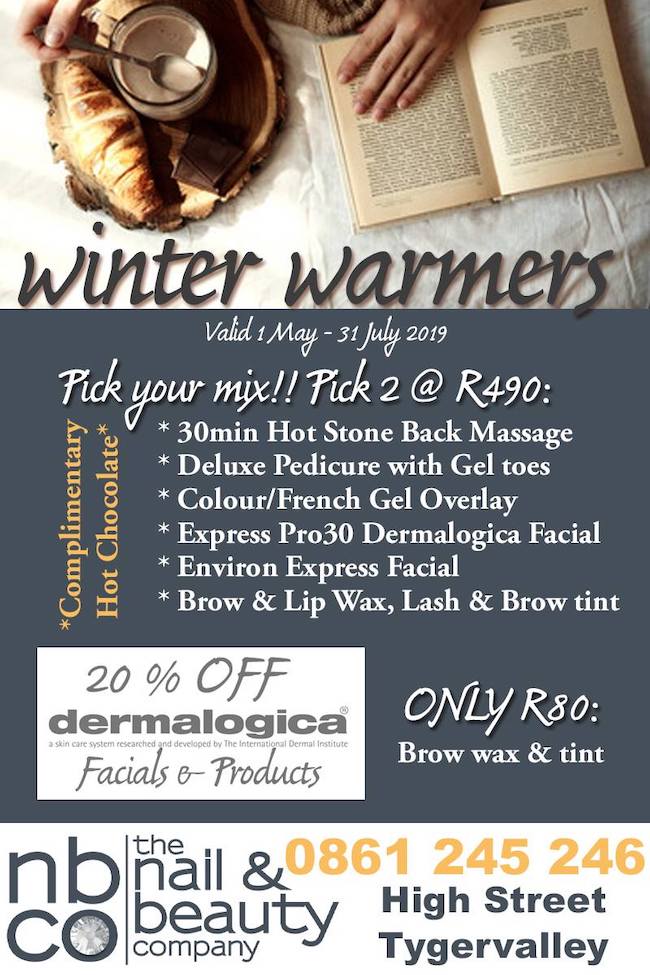 Enquire
about this
The Nail & Beauty Company combines nails, beauty and natural products.
Come and enjoy a professional service while browsing around all the lovely natural health and pamper products available in our shop.
Products we stock include:
Sevenpointfive Natural Supplements,
Soil Organic Aromatherapy Essential oils, carrier oils, blends, soy wax melts.
Rain body and pamper products, room fragrances
Treemendus certified organic tea tree body range
Antjies bath salts, fizz balls, bath teas, artisan soaps
Bio Sculpture Hand and body creams, scrubs and butters
SOiL Baobab Bath oil, bath salts, body and hand wash, soy wax candles
Silverlab Colloidal silver gel, cream, liquid, nasal spray, liquid spray
Forever Aloe products
Aromatic Apothecary muscle rubs and sprays
and more...
#1 out of 1 Nail Salons in Langebaan
Reviews
Ambience

Cleanliness

Facilities

Staff

Value
Have you been here? Write a review
Showing 1-10 of 72 items.
Mukhathutshelwa Mashawana
Friendly staff and great attention to detail
Lindie Brink
So much detail and every attempt is made to make sure the client is happy. They are really awesome here is langebaan. Thank you Anushka Kemp
Sanelle Naude
Highly recommended! Defenately the best place to do your nails! Excellent quality, top notch products and staff that becomes friends.
Juliet Roux
Absolute perfection!!! best nails I have ever had :))))
Issabella Perry
Tygervalley Highstreet branch - Loved every set of nails so far. Great friendly and professional service, very clean and sterile work stations and great advice on how to care for your hands and nails. Looking forward to every new set.
Samantha Marinus
Excellent service,,,sooo therapeutic nd TopBilling Stunning nails?
Lenandri de Witt
I love my nails!!! The lady paid so much attention to detail. Friendly excellent service
Yolande Le Roux
Baie dankie aan Alicia by die Moorreesburg tak! Die diens was vriendelik en my naels lyk pragtig! See Translation
Natalie Fabulosity Roman
WOW What a wonderful experience? You ladies are AWESOME...There was a small misunderstanding regarding booking but you ladies sorted it out quick quick and made me enjoy every minute in Salon if I could rate you 10 stars i would CUSTOMER SERVICE,WORK ETHIC,PROFESSIONALISM ????????? THANK YOU Nicole your work is PERFECT xxx #KEEPUPTHEGOODWORK
Sandra Le Roux
Goeie diens en prys... See Translation